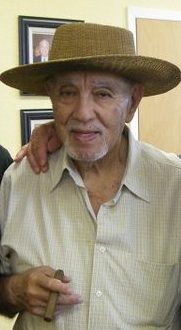 Avo Uvezian was a man who bridged his accomplished musical career into a successful cigar career. Uvezian passed away at home in Orlando, Florida this morning, two days after his 91st birthday.
Uvezian was born in Beirut, Lebanon in 1926. His parents were both musicians and it didn't take long for Uvezian to develop his own musical career. By 1947, he would head to New York to study music at the famous Juilliard School of Music. His musical career was interrupted by the Korean War when he served in the United States Army.
While he was known as a Jazz musician, he is perhaps most famous for writing "Strangers in the Night," a song made famous by Frank Sinatra. Though Uvezian claimed to write the song, it is Bert Kaempfert who is officially credited with the song. Uvezian said he had asked Kaempfert to publish a German version of the song.  According to Uvezian, Kaempefert changed the name and lyrics to the song. Uvezian claimed to have a letter from Kaempefert acknowledging that Uvezian was the songwriter.
Playing as a pianist in Puerto Rico in the 1970s, he was introduced to cigars.  Outraged by the price of Cuban cigars, he set out to create his own less expensive cigar. In 1982, he hooked up with Master Blender Henke Kelner in the Dominican Republic. By 1988 Uvezian launched his cigar brand. It was originally launched as Bolero Cigars, but the name was quickly changed to Avo Cigars.
By 1995, Davidoff (for whom Kelner blended cigars) bought up the distribution of Avo Cigars and he has remained a brand ambassador ever since – and has became one of the popular ambassadors in the industry. He was known for his Panama hat and white suit.
As a brand ambassador, Uvezian continued to do events well into his 80's. In 2013, he was involved in a serious car accident. This curtailed his event schedule and for the first time in many years, Uvezian missed the 2014 IPCPR Trade Show in Las Vegas. He made a triumphant return at the 2015 IPCPR in New Orleans. At IPCPR in 2016, he was given a special Medal of Honor from the Prime Minister of the Republic of Armenia during the Golden Band Awards. The award was given in recognition of Uvezian's contributions to both music and business.
 "Avo has been a huge personality across the globe and was part of the Davidoff family for over 30 years and we will sorely miss his passion, his personality and his wonderful talents as a cigar man and as a music man," commented Hans-Kristian Hoejsgaard, CEO of Oettinger Davidoff in a company statement following Uvezian's passing.
Jim Young, President Davidoff North America added "Avo was incredibly energized by his engagement with the business and was constantly bringing new ideas to think about. An evening with Avo was always an unforgettable evening of great conversation, laughter and warmth. We shall miss him deeply."
Scott Kolesaire, the marketing manager for Avo Cigars and who developed close ties with Uvesian added, "up until the end, the daily phone calls and free-flowing ideas were part of our everyday conversations. Avo was my friend, a life mentor, and a person unlike any other. I will miss him dearly."
Avo is survived by his wife Nivia, sons Jeffrey, Robert, and Ronald and daughter Karyn.
Photo Credit: Cigar Coop
Updated 3/24/17: Included statements by Davidoff team