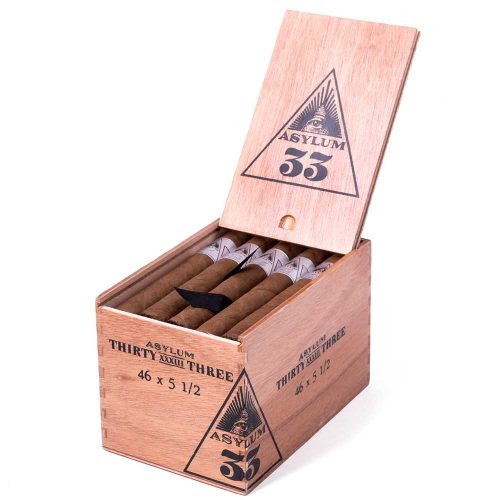 The Asylum 33, a limited edition project launched in 2015 is making a return, and it will be at Binny's Beverage Depot in Illinois.
The Asylum 33 was a Honduran puro. The tobaccos tobaccos used in the blend were some of the best aged tobaccos that Asylum brand owner Christian Eiroa and Tom Lazuka could procure. There originally plans for subsequent releases of the Asylum 33, but that never materialized.
All four sizes of the Asylum 33 are returning: 46 x 5 1/2, 50 x 4 1/2, 60 x 6, 70 x 6. Each are available in 25 count boxes with pricing ranging from $9.95 to $12.95 per cigar.
Binny's is a chain of 35 retail outlet stores in Illinois.  The cigars will be available at the retail stores or at Binny's Web Site.
In a press release announcing the return of the Asylum 33, Jack Spethmann Assistant Cigar Buyer commented, "Binny's Beverage Depot has been carrying Asylum cigars since 2015 and are proud to announce the return of the Asylum 33 to our stores. The Asylum 33 quickly found itself as a customer and staff favorite. We are very happy about the opportunity to bring the Asylum 33 back to Chicagoland."
Photo Credit: C.L.E. Cigar Company