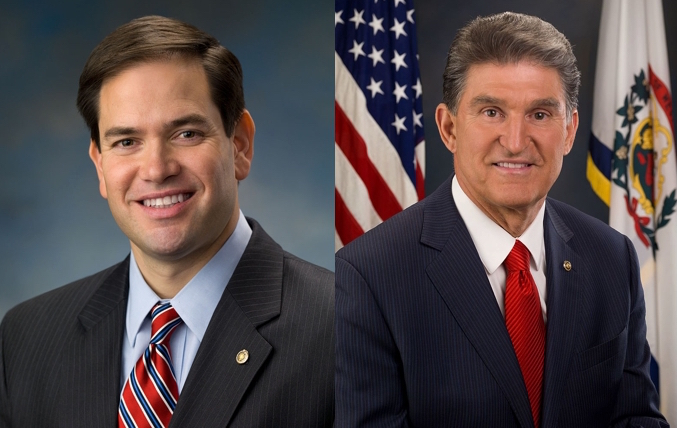 Last week, language was placed in the House Appropriations Bill calling for a premium cigar exemption from FDA regulation. A companion bill is now being deliberated in the Senate – and its a bill that doesn't currently contain language for an exemption.  Today, Senators Marco Rubio [R-Florida] and Joe Manchin [D-West Virginia] expressed support before a Senate Appropriations Committee for the exemption.
"The industry's future is at stake. I truly think it's a matter of fairness",  commented Senator Rubio.  "This isn't about curtailing tobacco use, because it's already on the decline. This is about thousands of small businesses and their employees that frankly have done nothing wrong but now the government is singling them out."
Rubio also commented on youth tobacco usage, "We all share the goal of eliminating underage tobacco use and it is already illegal to sell tobacco to anyone under 18 years of age. (this) is not a product that either preys on, seeks to market to or has a problem with underage use." Rubio also added that the premium cigar industry "has done nothing wrong and in my view is being treated unfairly."
Manchin also expressed his support. "I'm all for curtailing addiction to tobacco use but…. You don't see kids going around smoking these fine cigars. It supports such a robust business… It does not add to any type of addiction or support any type of addiction."
In a press release by the International Premium Cigar and Pipe Retailers (IPCPR), newly installed President Kenneth Neumann said, "Having a Member of Congress the caliber of Senator Rubio stand up and advocate on behalf of retailers, manufacturers and the thousands of jobs at stake is a tremendous boost to this industry. Floridians and retailers across the country are proud to have him as a true supporter."
The cigar industry is particularly concerned about having this language on the Appropriations Bills.  Such language would prevent federal funding from being used to finalize, implement, administer, or enforce FDA regulations on premium cigars during the fiscal year. Such language is needed ion both the House and Senate bills to advance the cause.
Photo Credits: Public Domain