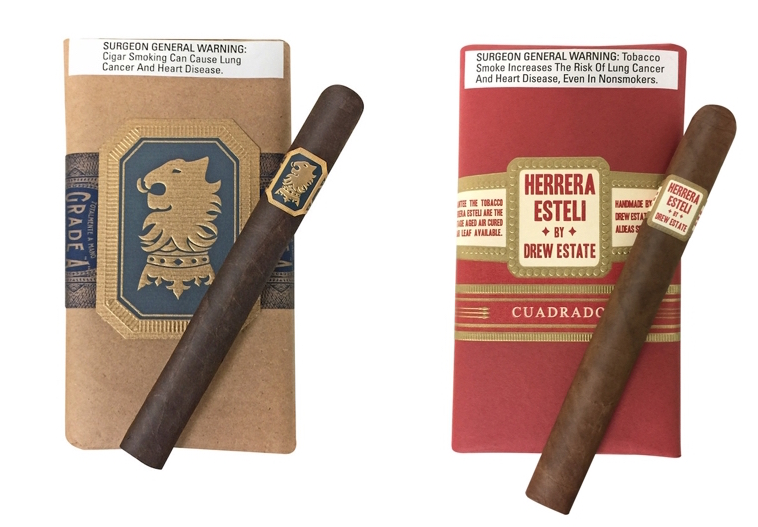 Two new 6 1/2 x 44 box pressed versions of Drew Estate's Undercrown Maduro and Herrera Esteli have become shop exclusives to Casa de Montecristo and JR Cigar retailers. These cigars are officially dubbed "Cuadrado" and are currently available.
In a press release announcing the Undercrown Maduro Cuadrado and Herrera Esteli Cuadrado, Drew Estate Master Blender Willy Herrera commented, "One of my favorite vitolas I have blended at Drew Estate is the Norteno lonsdale because of how the smoke hits your palate, so we re-worked the blend of Undercrown Maduro, in this box press format using my experience of blending with Mexican San Andreas Wrapper with the Norteno. The Herrera Esteli Cuadrado shines in this size. Unlike my other exclusives which feature different blends of the Herrera Esteli, this one remains exactly the same as the original, just in the box pressed lonsdale format. It's just damn good."
Both Cuadrado cigars are being offered in ten-count soft packs.
Both Casa de Montecristo and JR Cigar are retail operations owned by Tabacalera USA.
Here are the details on the Undercrown Maduro Cuadrado and Herrera Esteli Cuadrado:
Undercrown Maduro Cuadrado
Wrapper: San Andres Mexican Maduro
Binder: Connecticut River Valley Stalk Cut & Cured Sun Grown
Filler: Brazilian, Nicaraguan
Cuadrado: 6 1/2 x 44 (Box pressed)
Price: $74.00 (10-count soft pack)
Herrera Esteli Cuadrado
Wrapper: Ecuadorian Habano
Binder: Honduran
Filler: Nicaraguan
Cuadrado: 6 1/2 x 44 (Box pressed)
Price: $105.50 (10-count soft pack)