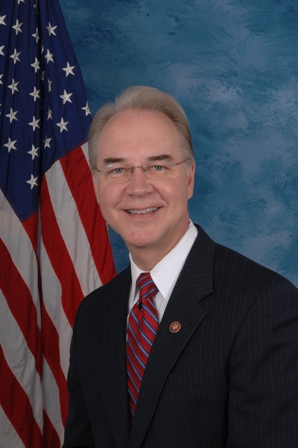 The Tom Price era as Secretary of Health and Human Services (HHS) has come to an end. Today, Price offered his resignation to President Donald Trump, who subsequently accepted it.
The resignation comes on the heels of an investigation into his use of private charter and military jets which resulted in costs of $1,000,000 to taxpayers. At the request of five members of Congress, HHS Inspector General Daniel Levinson launched an investigation of Price's travel spending on Sept. 22, 2017.  On September 28, Price offered to repay the costs for his personal seats which totaled $51,887.31, but that did not cover the overall costs of his flights.
Price's future as Secretary of Health and Human Services had been put in doubt after President Trump was asked by White House reporters about whether he would fire Price over the scandal. "I was looking into it and I will look into it. I will tell you personally, I'm not happy about it. I am not happy about it I'm going to look at it. I let him know it."
For the cigar industry, this move is quite significant.
Health and Human Services is the department which the U.S. Food and Drug Administration (FDA) falls under. With the cigar industry facing the impacts of the FDA Deeming Regulations, the industry was looking for someone who was considered "friendly" toward the cigar industry – and that's exactly what they got with Price. Price's appointment was praised by members of the cigar industry. Prior to becoming Secretary of Health and Human Services, Price served in the House of Representatives where he had been a co-sponsor of legislation in the past to exempt the premium cigar business from FDA regulations. Most recently, the FDA announced it was re-examining the Deeming Regulations as it pertains to the cigar industry and extended the pre-market approval date for non-grandfathered products to August 8th, 2021.
Don J. Wright has been named the Acting Secretary of HHS. Wright was serving as the deputy Assistant Secretary for Health and Director of the Office of Disease Prevention and Health Promotion (ODPHP).
Photo Credit: Wikipedia, CC BY-SA 3.0