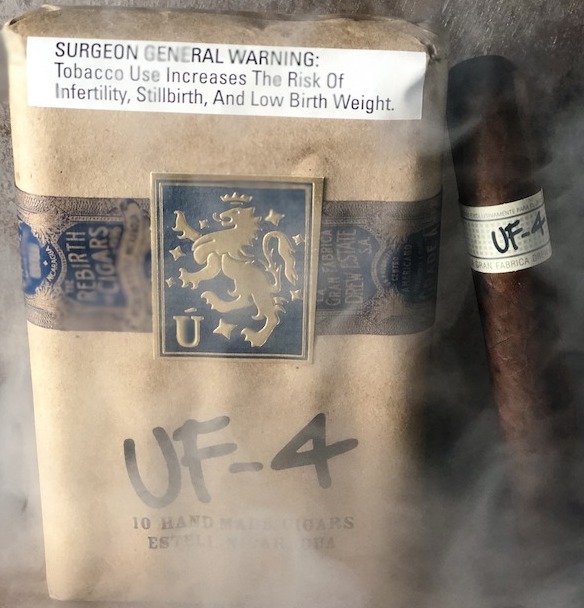 The Liga Privada Unico Serie UF-4, one of the most limited Liga Privada cigars by Drew Estate, is returning in its annual release. As in previous years, the UF-4 will be released to coincide with Countryside, Illinois-based retailer Casa de Montecristo's annual Halloween party on October 26.
Since its inception in 2010, the Liga Privada Unico Serie UF-4 has been an exclusive offering to the Illinois-based Casa de Montecristo store. The blend consists of a Connecticut Stalk Cut Wrapper, Brazilian binder, and fillers from Honduras and Nicaragua. The cigar started out as an original test blend of the Liga Privada T52, but was not chosen for production. However, it was Drew Estate co-founder Jonathan Drew's favorite version of the blend.
In a press release announcing this year's release of the UF-4 Drew commented "The Liga Privada UF4 has an epic history, beginning with the onset of the Liga Privada movement. At the crossroads of Liga 9 and T52, there was a blend that we called the JD4 because it was my favorite. We kept making small batch after small batch of them and smoking them ourselves at the office and in Nicaragua. Then we released JD4 as a yearly commemorative with Casa in Chicago, but I changed the name to MF4. After (Don) Pepin (Garcia) changed his company name to My Father Cigars, we changed the name for the third (and probably final time) to Liga Privada UF-4. I'm proud to continue the legacy of this commemorative blend with Casa de Montecristo exclusively. It's juicy and fun!"
UF-4 is a Toro-sized vitola that is packaged in ten-count paper bundles.
Photo Credit: Drew Estate