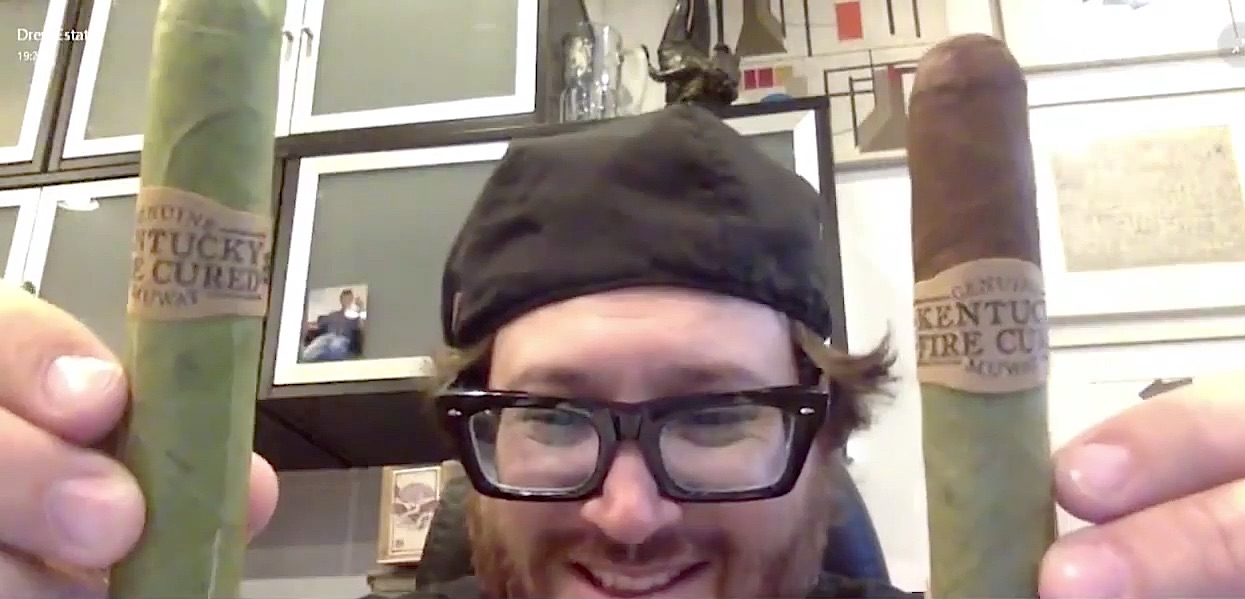 On the eve of the 2015 IPCPR Trade Show, we caught up with Jonathan Drew of Drew Estate, who joined us as a special guest as a part of the celebration for Episode 150 of Stogie Geeks. In this in-depth cigar conversation, we hit a variety of topics in regards to Drew Estate.
Drew provided his insights on the current state of the cigar industry, including new media.
We had a discussion of the Drew Estate brands and how it is positioned in different market segments of cigar enthusiasts.
Drew talked about what he considers "Game Changers" in the cigar industry.
Discussion on Fire-Cured and Candela wrappers. Drew told us there is a project under development to incorporate a candela wrapper with fire-cured tobacco.  He demonstrated a couple of prototype during the interview (pictured above), but indicated this is a concept still being developed and is not a branded or finished product.
Drew commented on the company he co-founded being acquired by Swisher International and how it was a unique situation for both companies. In particular he addressed the polarizing reaction by many when that acquisition occurred.
Drew provided commentary on two former high profile employees who have now set out to build their own companies – Steve Saka and Nicholas Melillo.
We had a discussion of the Undercrown Shade and how it marks Drew Estate's return to having a Connecticut Shade on the market.  Drew also addresses how the messaging of the Undercrown brand has slightly changed with the release of the new Undercrown Shade.
Drew spent some time discussing some of the other releases from Drew Estate at the 2015 IPCPR Trade Show.