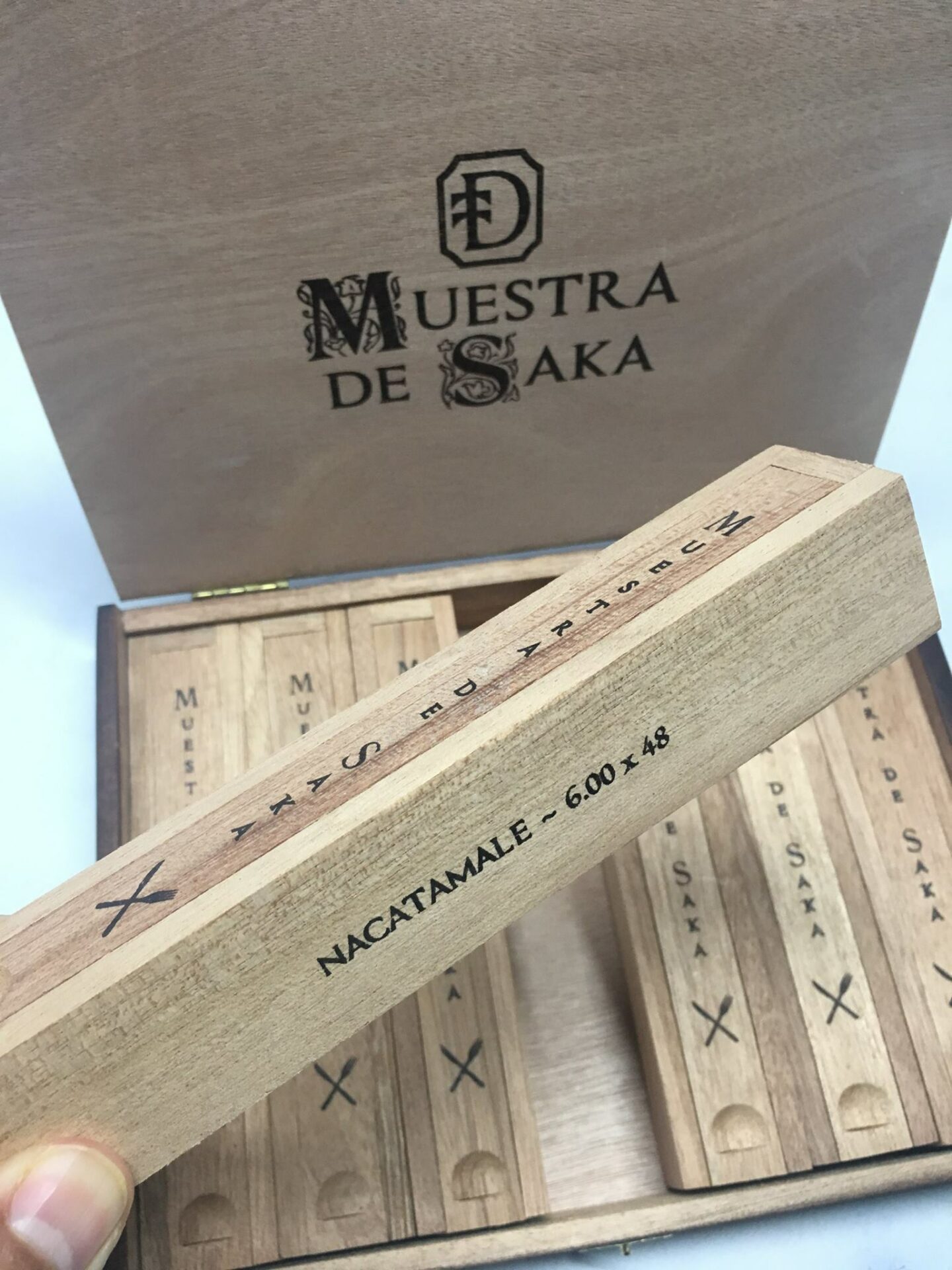 Dunbarton Tobacco & Trust founder Steve Saka announced on Social Media that he expects the Muestra de Saka Nacatamale to hit retail shelves in mid-November.
Just before the 2017 IPCPR Trade Show, Dunbarton Tobacco & Trust had started taking pre-orders on the second installment of the Muestra de Saka series, the Nacatamale. Muestra de Saka follows a "one size, one blend" model where each installment of the series has a unique blend mapped to a particular vitola. The Nacatamale features an Ecuadorian Habano wrapper over Nicaraguan tobaccos from a single farm.  It is available in one size, measuring 6 x 48. Like the first installment, the Muestra de Saka Exclusivo, the Nacatamale will be packaged in an individual coffin with seven coffins packaged per box. Production for 2017 is 2,250 boxes.
Saka explained some more background on the project on this social media post:
What made this cigar a unique blending challenge was I went "viejo granja" style with it. For over a century most cigars' entire filler recipes were comprised of just ONE farm's tobacco and any complexity was introduced by extremely careful leaf processing, selection and positioning within the bunch. Whereas these days as we have hundreds of ingredients to work and blend with to create interesting and satisfying ligas.
So, the challenge was to see if I could make an "old farm" style liga that could hold its own with the modern blends we create today. I am genuinely curious to see what the feedback on this cigar will be and I have probably poisoned the pool a bit by stating it is a single ingredient liga, but at the same time I am really proud of this blend – amazing the amount of effort it took to pull this one off and of all the Muestra's I don't believe any other will be as challenging skill wise.
This cigar is considerably more robust than the Exclusivo and since this puro's tripa are all from just one small, independent farm in Jalapa, Nicaragua, I will not be disclosing the name of the vega.
Note: The Nacatamale Coffins feature a crossed knife and fork to make them identifiably different than Exclusivo when viewed in the coffin on the shelf.
Saka says he has sold 99.5% of his inventory and will be keeping the remainder for himself.
Photo Credit: Dunbarton Tobacco & Trust