Happy Birthday Julio R. Eiroa!
Today, Julio R. Eiroa, the patriarch of the Eiroa family and tobacco industry icon, celebrates his 80th birthday. Last year, as a part of my visit to the operations of the JRE Tobacco Farm and JRE Tobacco, I also had a chance to meet Julio R. Eiroa. In this final installment, I recap my visit with Mr. Eiroa.
In my eight years working in the cigar media, I've been afforded the opportunity to meet the people behind many of the cigar brands that we all know and enjoy. There are plenty of great personalities, and some of these personalities are icons. Some of these icons are even legends. Julio R. Eiroa is one of those legends and I was honored to spend some time with him at his base of operations in Honduras last year. Today, Mr. Eiroa turns 80 years young.
Julio R. Eiroa was born in Cuba on January 11, 1938, in  San Juan y Martinez, Cuba, located in the Pinar del Rio region. He actually emigrated from Cuba on two separate occasions. The first time was in 1957 for being considered a "troublemaker" by the Batista government. After returning to Cuba, he was forced to leave again following the aftermath of the Cuban revolution. He also served in the U.S. military, spending time in Korea and being a part of the failed Bay of Pigs invasion.
Following the Cuban Embargo, many cigar factories in the U.S. had to look for new sources for tobacco. Mr. Eiroa would team up with Angel Oliva in Honduras to grow Cuban-seed tobacco to replace the embargoed Cuban tobacco. Eventually, Mr. Eiroa would set out on his own, and buy up some farms and build a growing operation.
He would face challenges – including some partnerships that went bad and a plane crash that would take him out of the growing side of the business for many years. When left with tobacco surpluses prior to the cigar boom of the 1990s, he moved into the production side of the business. He would eventually acquire Camacho Cigars from Simon Camacho. Julio's son Christian Eiroa later got involved, building Camacho into one of the most successful brands in the history of the cigar business. In 2008, Christian would sell Camacho to Davidoff. However, the farms were not a part of that sale.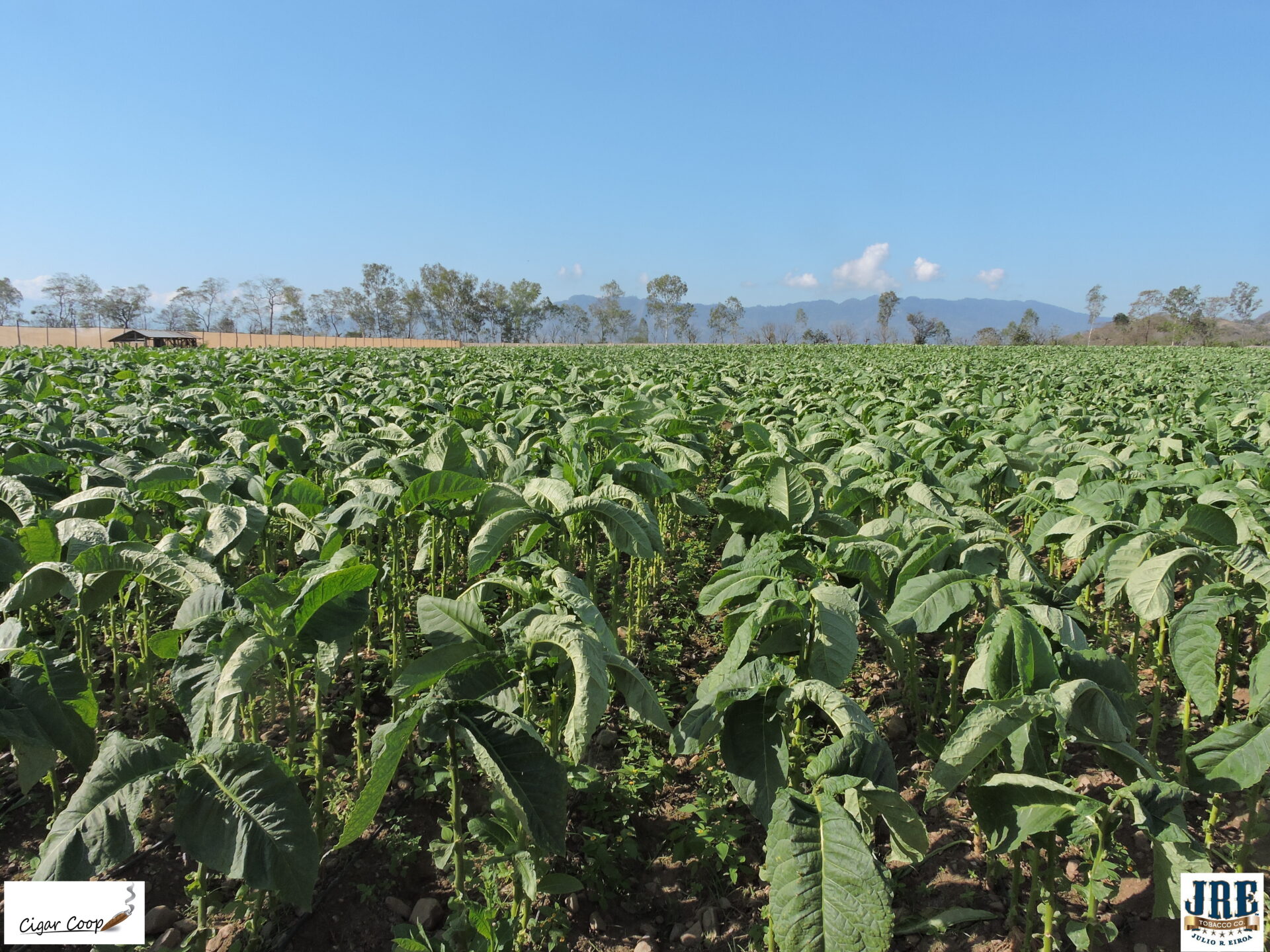 Christian would work for Davidoff for some time before launching his own company C.L.E. Cigar Company – to which the Eiroa Tobacco Farms have continued to supply tobacco. After Julio Eiroa's non-compete ended, he returned to cigar manufacturing. He created three brands: Aladino, Rancho Luna, and Tatascan. These brands would be put under a new venture called JRE Tobacco. Mr. Eiroa brought in his son Justo to help him with the overall operations. In previous installments, I covered my visit to tobacco the agricultural and manufacturing operations. It was during that visit that I got to meet and spend time with Julio R. Eiroa.
There are many other achievements that occurred during his 50+ plus years in the tobacco business. Along the way, Mr. Eiroa and his farms became one of the big suppliers of candela wrapper. He also re-introduced Authentic Corojo back into the market. And let's not forget being the first in the tobacco business to implement the Bayer CropScience program of agricultural practices into his entire operation.
My own journey to meeting Mr. Eiroa can be traced back to shortly after JRE Tobacco Company was launched back in 2016. I had decided to reach out to Justo Eiroa and see if I could learn more about the venture. Justo had only joined his father with JRE Tobacco a few months earlier, but I found someone who was an incredibly passionate about not only what he was building, but his father and family's legacy. As I started covering JRE Tobacco from a media standpoint, my relationship with Justo continued to strengthen. By the end of last year, Justo had invited me to come down to Honduras and visit the operation.
There aren't many people who can boast a bio or resume like Julio R. Eiroa. Because Mr. Eiroa spends most of his time in Honduras, he hasn't been interviewed as much as others in the industry. In fact, I had not seen any online media interviews of Mr. Eiroa. I knew this would provide an incredible opportunity for me.
Mr. Eiroa and his son Justo opened their home to me. Their generosity and kindness were second to none. While the days in which I visited the farm and the factory would start early (8am), Mr. Eiroa beat everyone else out the door each and every day. He would get into his Geo Tracker and drive out to the farms and oversee what was going on out there. He then would head over to the factory later in the morning or early in the afternoon.  While the farm and the factory are for all practical purposes adjacent to each other, this is by no means a small operation. I can attest personally I was exhausted on each of the days I toured the facility, yet Mr. Eiroa seemed to pull it off with ease.
When it came to having a conversation about his long career in the cigar industry, Mr. Eiroa was an open book –  placing no parameters on our discussion. His legendary career is something he is very proud of. It is a career that was not without challenges along the way – which he was very candid about in our discussion.
Our conversation occurred in the front office of the Las Lomas factory. It was adorned with pictures of not only the farm, but some classic vehicles and even one of a prominent television journalist.
Below are excerpts of the conversation (while it's a video link, it's audio only) I had with Mr. Eiroa and his son Justo at the Las Lomas factory. Mr. Eiroa takes us back through his amazing journey that started in Cuba to where we are today. As you will see this is not only an insightful, but candid conversation. Toward the end of our discussion, the Eiroas began to pick my brain on some of the current industry trends and challenges.
Mr. Eiroa's experience and vision came out very clear during my visit to JRE's operations at the family's Tobacco Farm and the Las Lomas factory. Be sure to check out our previous installments that made up this special Feature Story series we have delivered to you.
Part 1: A Visit to the JRE Tobacco Company Operations: Part 1-The Corojo Farm
Part 2: A Visit to the JRE Tobacco Company Operations: Part 2-The Agriculture and Curing Operations
Part 3: A Visit to the JRE Tobacco Company Operations: Part 3-The Factory Operations
Also check out our special feature: Bayer CropScience a Daily Best Practice of Eiroa Operations
Photo Credits: Cigar Coop