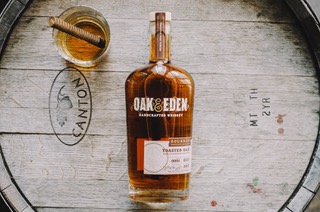 Ezra Zion Cigar Company has announced that it has entered a partnership with Oak & Eden Inspired Whiskey. Under the partnership, Ezra Zion co-owners Kyle Hoover and Chris Kelly will collaborate to introduce the whiskeys offered by Oak & Eden, as well as develop a line of Oak & Eden Whiskey Inspired Cigars. Ezra Zion will be part of a partnership team that includes brothers Joe and Jamie Giildenzopf; who serve as CEO and Master Distiller, respectively.
"We're elated to bring innovative, small-batch, 'boutique' whiskeys to our friends in the cigar community," stated Kyle Hoover, Ezra Zion co-owner in a press release. "Everyone knows there's nothing better than having a great cigar and whiskey. It's absolute heaven."
"We're excited to introduce Joe to the cigar community. He's a total genius. Having him at the helm of Oak & Eden is epic. The level of palate sophistication and blending aptitude on this team is legendary!" added Chris Kelly, Ezra Zion co-owner.
Oak & Eden will officially launch its products in Texas beginning in April 2018 with plans to go nationwide throughout the year. Distribution for Oak & Eden will be handled by Republic National Distributing Company, one of the nation's largest spirit distributors. Plans are to initially launch two products: Oak & Eden Bourbon and Oak & Eden Rye.
Instead of being finished in barrels, the Oak & Eden products are finished using patented spire technology. This consists of using a spiral piece of wood. Oak & Eden's process to create the spire is unique and patented. The spire is also inserted into the bottle using a patent-pending process.
"We say that the spire is 'Better than a barrel' because the surface area ratio of oak wood to liquor is higher with our spire than a barrel. It makes a superior whiskey. It's an evolution in whiskey making that we've perfected and patented." added Joe Giildenzopf.
Details about the Oak & Eden whiskey inspired cigars are still pending, but Ezra Zion says each project will be blended to be an optimum cigar pairing for each release.
Ezra Zion Cigar Company was founded in 2012 with Hoover and Kelly as two of the co-founders. It was best known as a brand distributed by House of Emilio/Boutiques Unified before the brand departed last year. In the past two years, the company has been focused on uber-small batch direct to consumer releases.
Photo Credit: Supplied by Ezra Zion Cigar Company