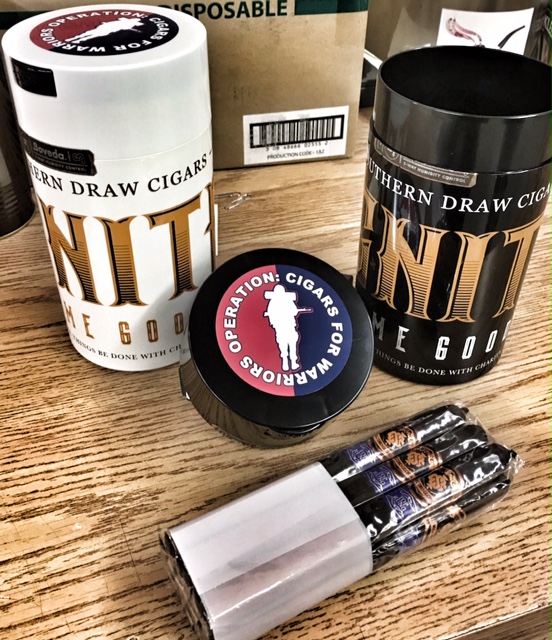 Earlier this week, Southern Draw announced IGNITE,  a collaborative charity project being done in conjunction with five retailer partners. Today, Southern Draw has announced the first release, IGNITE Top Notch – a cigar that introduces a 6 1/2 x 40 box-pressed lancero of Southern Draw's popular Jacobs Ladder blend. The IGNITE Top Notch will be done in collaboration with Casa de Montecristo and will make its debut at the Texas Cigar Festival being hosted by Casa de Montecristo's Houston-based Serious Cigar on April 14th, 2018.
Jacobs Ladder was introduced by Southern Draw Cigars in 2017 as the company's strongest and fullest offering to date. The blend for Jacobs Ladder is highlighted by a Lancaster 401 Broadleaf wrapper from Pennsylvania over an Ecuadorian Maduro wrapper and all-Nicaraguan fillers.
The IGNITE project will feature cigars packaged in jars. For the IGNITE Top Rung, each jar will contain ten Jacobs Ladder Box Pressed Lanceros. There will a total of 1,000 jars produced with 500 white jars and 500 black jars. A total of 100 jars will be made available at the Texas Cigar Festival. This will be followed up by 400 jars released at participating Casa de Montecristo locations. The remaining 500 jars will be distributed at a later date.
The charity selected for the IGNITE Top Rung is Operation Cigars for Warriors.
"We are excited to partner with Robert and Sharon Holt and the Southern Draw family on the release of the IGNITE project. As the largest brick and mortar cigar lounge chain in the country and the first retailer to receive and offer these for purchase, we feel that our customers will be just as excited as we are to try these exclusive items. The IGNITE jars will be first available at our Texas Cigar Festival in Houston, TX on April 14th, 2018. Shortly after, you'll be able to purchase these at many of our 20 retail locations, including our newest additions in Tampa, FL. until our limited supply is gone," stated Ernie R. Watson, Sr. Merchandise Manager, Casa de Montecristo Inc. in a press release. "We believe this is just the first of many steps in aligning Casa de Montecristo with trends and exciting projects that make this industry so unique," added Watson.
Each jar will also contain a 69 RH humidification pack donated by Boveda Inc, who is a partner on the project. "Boveda is proud to be part of this exciting and innovative IGNITE project that Southern Draw Cigars has orchestrated. Boveda believes in supporting initiatives like these that serve our US military and its veterans, grass roots charities and premium cigar rights. Each of these unique jars will be packaged with Boveda's 2-way humidity control from the factory, ensuring the customer is provided the best smoking experience by delivering the cigars in ideal smoking condition" added Tim Swail, Executive Vice President of Sales for Boveda.
The second and third IGNITE releases will also utilize Cigars for Warriors as a charity component. The second release is slated for Famous Smoke Leaf & Cigar Bar on May 12. The third release (which will feature two cigars) is slated for Cigars International with a date to be determined. Retailers and charities for the fourth and fifth releases are still to be determined.
From the sale of each jar, a donation will be made of $7.50 to Cigars for Warriors. $3.75 will be donated from the retailer with Southern Draw matching the donation.
Photo and Video Credits: Southern Draw