---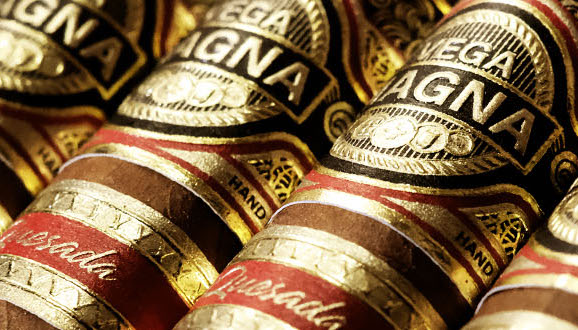 At the 2018 IPCPR Trade Show, Quesada Cigars will introduce a new brand called Vega Magna. It's a brand that no doubt will be the featured release for Quesada at this year's trade show.
From a packaging standpoint, the Vega Magna is reminiscent of another Quesada brand, the Casa Magna. While Casa Magna is a brand that started out as a collaboration with the Quesada and Plasencia families, the Vega Magna is a different type of collaboration. Vega Magna is a blend that was developed between Quesada Cigars' production manager Miguel "Miguelin" Núñez and the Quesada family. Núñez has worked in many aspects of the tobacco industry, including as a "Cosechero" – someone who is said to have harvested sixty crops in over forty years.
As for the blend, it features a sun grown Ecuadorian wrapper over Dominican binder and filler. The blend incorporates Dominican tobaccos from as early as 2001. The Dominican tobaccos are aged in tercios – which is a technique that involves using the bark of palm trees to wrap the bales of tobacco. The blend also incorporates Dominican ligeros designed to make this a bolder cigar.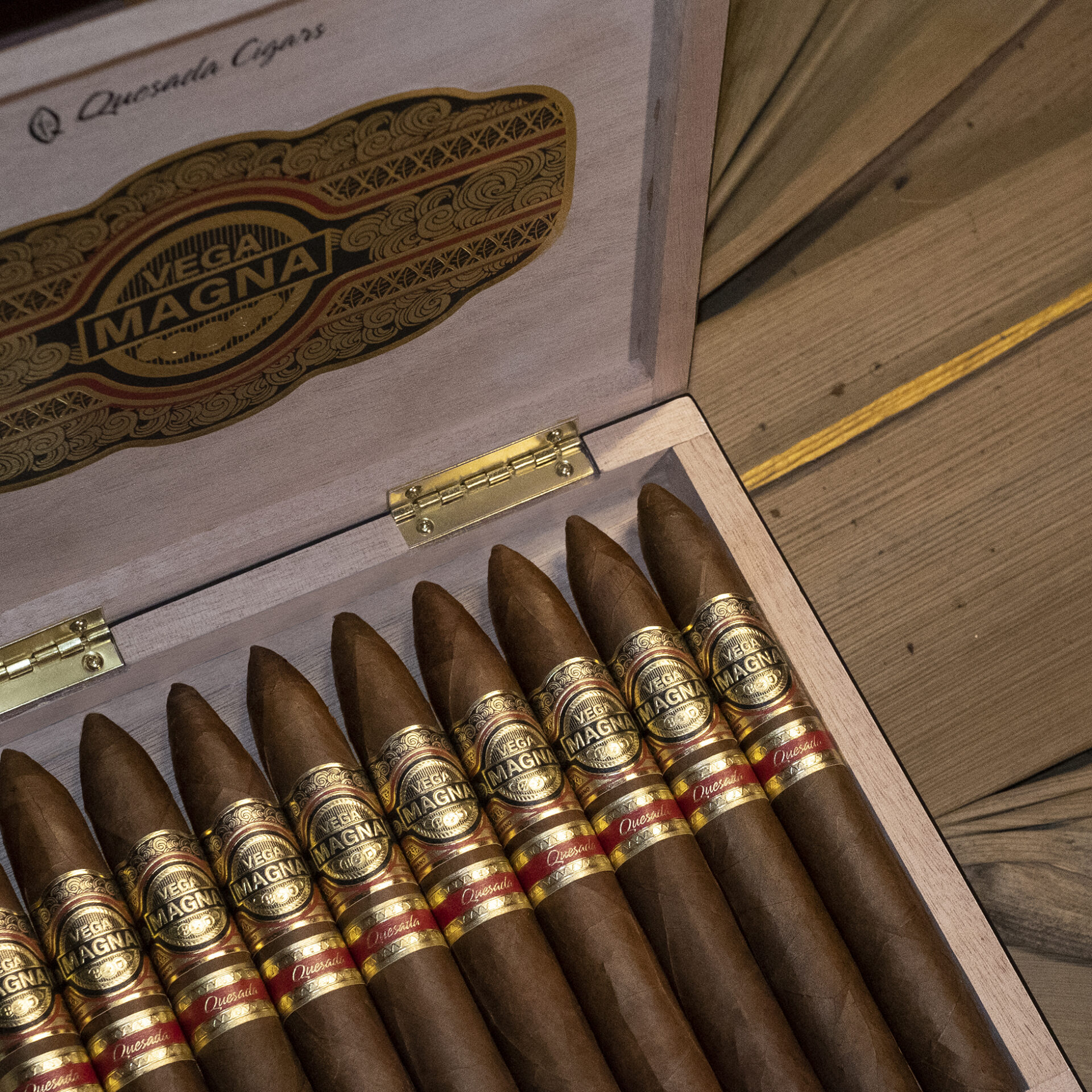 "Throughout his many years of work in this trade, using techniques from different generations, he has mastered the art of tobacco allowing him to create this unique blend", commented Fruela Roces, CEO of Quesada Cigars, in a press release.
"The use of Dominican tercio-aged tobaccos from as early as 2001, sorted and fermented with the extreme care, makes this blend extremely unique. The tercio aging, over long periods of time bring out wonderful complexity, that help create a sweet, rich full-bodied blend with notes of cocoa, dried fruits and cedar," added Quesada Cigars' President Manuel Quesada.
Vega Magna will be available in three sizes: Robusto (5 1/2 x 54), Toro (6 x 50), and Belicoso (7 x 52). Each is presented in 10-count boxes. The company also says that the packaging will feature illustrations by Dominican artist Pragmy Marchial. Each box will contain what the company says is a unique sketch by Marchial.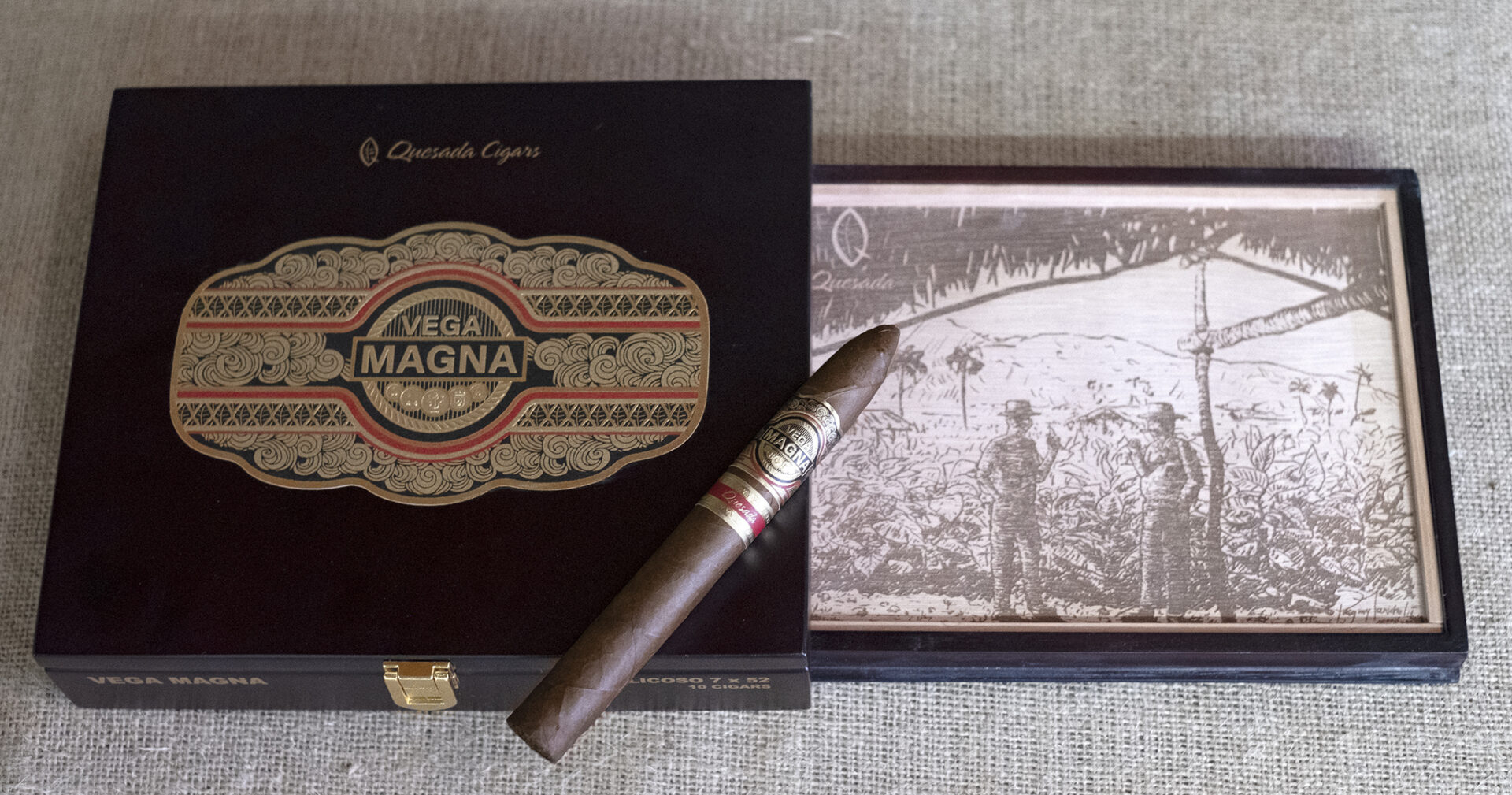 Shipping of the Vega Magna is scheduled for this autumn.
Photo Credits: Quesada Cigars