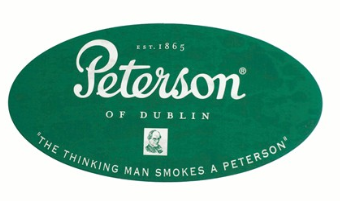 Well-known Irish pipe and pipe tobacco manufacturer, Kapp & Peterson Limited has been sold. Laudisi, a U.S.-based retailer, distributor, and manufacturer of premium pipes and pipe tobacco, has purchased the Peterson pipe factory and the Peterson of Dublin shop on Nassau Street. Meanwhile, Scandinavian Tobacco Group (STG), best known as the parent company of General Cigar Company, has purchased the entire premium pipe tobacco portfolio of Kapp & Peterson.
"Peterson is among the most venerable of pipe institutions," noted Sykes Wilford, President and CEO of Laudisi, in a press release. "While it has changed ownership a number of times during its storied 150-year history, each owner has served as a steward for the factory and the brand," Wilford continued. "We look forward to continuing that long tradition."
Given that Laudisi's retail website Smokingpipes.com, has a long history with Peterson, Wilford commented, "It is a logical step for us to continue in that role, but in an ownership and management capacity. At the same time, Peterson benefits from Laudisi's wider pipe market experience, plus its technology and marketing expertise."
Over the past 30 years, Peterson has been owned and operated by Tom Palmer who served as Managing Director of the Dublin-based pipe factory. Palmer commented, "This milestone marks another positive step forward in the histories of both Peterson and Laudisi. Laudisi's enthusiasm for and knowledge of pipes will combine perfectly with Peterson's manufacturing expertise and passion to enhance the brand in the years to come."
"Laudisi deeply understands and appreciates the spirit and culture of Peterson as well as its importance to pipe smokers and collectors. Peterson is in good hands," added Palmer, "This is a new and exciting chapter in our history."
The Peterson factory will remain in operation at its present location on Pearse Street in Sallynoggin. The Peterson of Dublin store will likewise remain on Nassau Street.
Meanwhile, STG adds the pipe tobacco brands of Peterson that include Sherlock Holmes, Old Dublin, and Connoisseur's Choice. Executive Vice President of Sales & Marketing in Scandinavian Tobacco Group, Christian Hother Sørensen commented, "M&A is part of the Scandinavian Tobacco Group DNA and we have a proven track record of achieving synergies when acquiring brands and businesses. We are excited about this small and interesting bolt-on acquisition in our pipe tobacco category. In Peterson Pipe Tobacco we are acquiring a sound portfolio of premium brands that will increase our offering to our consumers – and which we can further develop whilst leveraging our sales and marketing competencies."
STG says the Peterson Pipe Tobacco brands have delivered consistent volume and revenue growth since 2014. It expects this acquisition will its strengthen its presence in Germany, the United States, the United Kingdom and Asia.