Agile Cigar Reviews are cigar assessments where we use a lightweight, shorter format. These will never take the place of our comprehensive reviews. They are only used on blends we have previously assessed. This might be a blend we are re-scoring or giving a score for the first time. It might be a blend we are looking at in a different size. Today we look at the My Father La Gran Oferta Torpedo. This is a cigar line we have previously assessed, most recently back in September 2018 in the Toro size.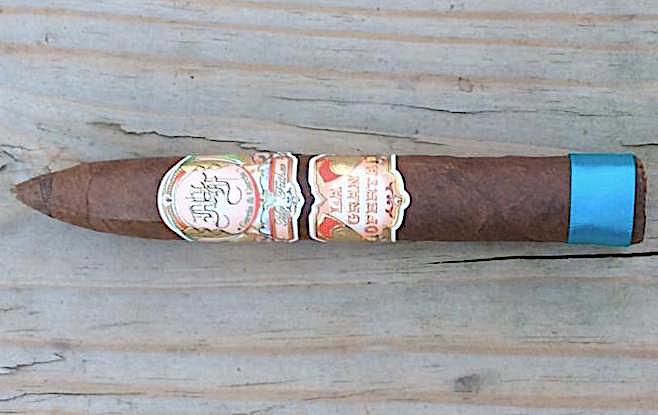 Wrapper: Ecuadorian Habano Rosado
Binder: Nicaraguan
Filler: Nicaraguan
Country of Origin: Nicaragua
Factory: My Father Cigars SA
Torpedo: 6 1/8 x 52
At the 2018 IPCPR Trade Show, the Garcia family and My Father Cigars introduced its sixth regular production blend under its flagship eponymous "My Father" brand, La Gran Oferta. The name La Gran Oferta translates to "The Great Offer" and at one time this was the name of a Cuban cigar brand. La Gran Oferta is the second regular offering under the "My Father" branded cigars to utilize an Ecuadorian Habano Rosado wrapper – joining the original "My Father" line. The difference is La Gran Oferta is positioned as a more dialed back offering in the My Father portfolio. Last year we took a look at this blend in the Toro size, today we look at its Torpedo counterpart.
In addition to the Ecuadorian Habano Rosado wrapper, La Gran Oferta consists of a Nicaraguan binder and all-Nicaraguan filler featuring tobaccos from farms owned by the Garcia family. The Torpedo size is one of 5 vitolas in the line. It measures 6 1/8 x 52 and has a slight soft-press to it.
Flavor-wise, I found the La Gran Oferta Torpedo to be in a similar wheel-house to its Toro sibling. The cigar starts off with notes of natural tobacco and red pepper. This is later joined by notes of earth and orange rind. The orange rind delivers both notes of bitterness and sweetness at times. For the most part, the natural tobacco notes hold throughout the smoking experience. While there is an increase in pepper along the way, it's not a cigar that overpowers with spice.
The La Gran Oferta Torpedo started out on the lower end of medium in terms of strength and body. While there is a nominal increase in intensity of both attributes, the cigar remained in medium range until the end of the smoking experience.
OVERALL ASSESSMENT
Final Thoughts
My experience with the My Father La Gran Oferta Torpedo was similar to my experience with the Toro. It has some nice rich tobacco flavors, but after that, there wasn't enough going on to excite me. I didn't find this to be the most complex of blends, and while the flavors delivered were good, this cigar lacked a wow factor. While I found the profile of this cigar is one that could be geared for the novice or experienced cigar enthusiast, it's one that I would recommend trying a sample first and seeing what you think.
Summary
Key Flavors Natural Tobacco, Citrus, Orange Rind, Pepper, Red Pepper
Burn: Excellent
Draw: Excellent
Complexity: Low to Medium
Strength: Medium
Body: Medium
Finish: Very Good
Rating
Value: Try a Sample
Score: 87
References
News: My Father La Gran Oferta Launched at 2018 IPCPR
Price: $8.80
Source: Purchased
Brand Reference: My Father
Photo Credits: Cigar Coop, except where noted