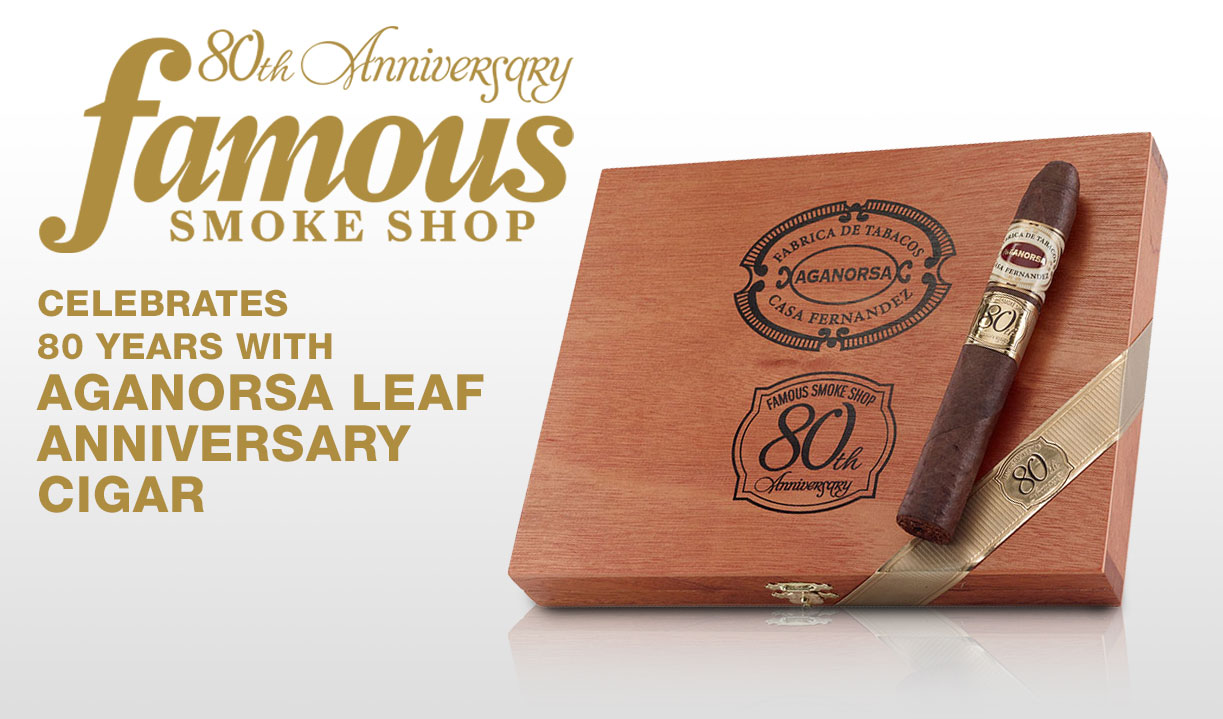 Famous Smoke Shop is celebrating 80 years in the cigar business, and it has commissioned some special exclusive offerings to commemorate the occasion. Today it was announced that it has partnered with Aganorsa Leaf Cigars to release the Aganorsa Leaf Famous 80th Anniversary.
It's the second release in Famous Smoke Shop's 80th anniversary series joining the Romeo y Julieta House of Capulet which had previously been released.
The cigar itself is a 6 x 52 box-pressed Toro highlighted by a San Andres Maduro wrapper over proprietary Nicaraguan tobaccos used for the binder and filler. The cigars are presented in ten-count boxes. A total of 250 boxes has been produced. Pricing is set at $89.99 per box.
"Eighty years is a long time," said Famous Smoke Shop President and CEO, Arthur Zaretsky in a press release. "And Aganorsa Leaf makes great cigars. But the Famous family wouldn't be where we are today without our customers – and with Aganorsa's help, I'm able to share something special with them, to celebrate this event together. It's a connoisseur's cigar – but it's very budget-friendly. I'm very happy with the result."
"I consider Aganorsa Leaf to be among the best manufacturers in the business," said Nicole Patoki, Famous Smoke Shop Retail Store Manager in a press release. "Their attention to detail and consistency in crafting flavorful cigars have made them wildly popular in our shop and one of the fastest-growing boutique blends on the market. So I'm excited to be able to offer one of their cigars with our name on it."
"For our 80th year, we wanted nothing short of perfection — and Aganorsa helped us achieve that with this Famous 80th Anniversary cigar," added Jim Charnley, Famous Smoke Shop Director of Purchasing and Merchandising. "When we discussed the details of making it, all we told Max Fernandez Pujals [who oversees cigar production at Aganorsa Leaf] was the cigar had to offer impeccable flavor and quality, and it had to be affordable – because that's what Arthur's family built the Famous Smoke Shop legacy on. Max's group delivered on both fronts, and I'm blown away by how well the cigars turned out. Every expectation we had has been exceeded." Charnley added, "Only 250 boxes have been made. Some are already gone. And you'll miss this rare gem entirely if you wait on it."