Agile Cigar Reviews are cigar assessments where we use a lightweight, shorter format. These will never take the place of our comprehensive reviews. They are only used on blends we have previously assessed. This might be a blend we are re-scoring or giving a score for the first time. It might be a blend we are looking at in a different size. Today we look at the Padrón No. 89 Maduro that was re-released as a TAA Exclusive. This is a cigar line we assessed back in December 2016.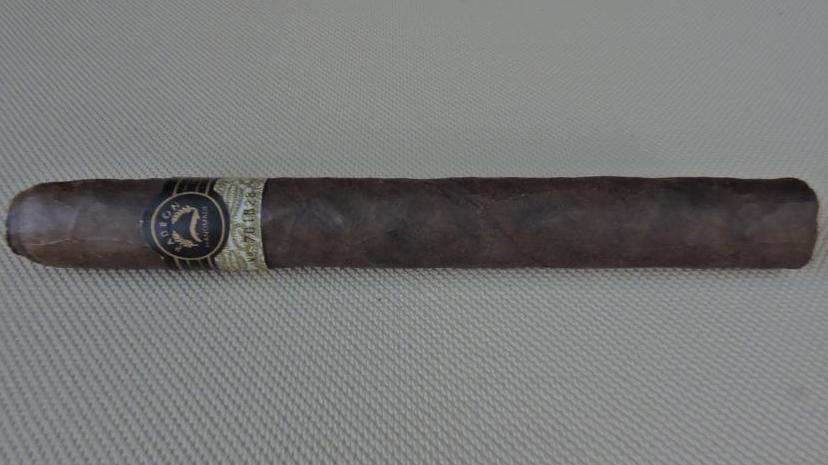 Wrapper: Not Disclosed, other than "Maduro"
Binder: Not Disclosed
Filler: Not Disclosed
Country of Origin: Nicaragua
Factory: Tabacos Cubanica S.A.
Corona Gorda: 6 x 46
Today we take a look at the second of two blends released by Padrón Cigars for 2018 Tobacconist Association of America (TAA) Exclusive Series. For this series, Padrón Cigars released a pair of blends known as the Padrón No. 89. These blends actually made their debut back in 2016 as a special event cigar for South Florida retailer Smoke Inn. At the time, Smoke Inn was hosting an event that was intended to be an early celebration for company patriarch José O. Padrón's 90th birthday (which was later in the year on June 10th). According to Smoke Inn, part of the reason No. 89 was chosen (as opposed to 90) is that Mr. Padrón was actually still 89 years of age when the event occurred. Keeping to Padrón's model, the No. 89 was released in both a Natural and Maduro blend. The No. 89 cigars quickly sold out and weren't heard from again until 2018 when it was announced the No. 89 cigars would be a part of the TAA Exclusive Series for 2018 commemorating 50 years of the TAA. We recently took a look at the Natural. Today, we take a look at its Maduro counterpart.
The TAA Exclusive Series consists of cigars made by leading manufacturers that are exclusively sold at TAA member retailers. The TAA is a small group of retailers. At press time the number of retailers is approximately 80. The TAA has defined itself as:
The Tobacconists' Association of America, Ltd. is a trade organization established in 1968 by visionary retail tobacconists. By providing education, communication, research, advocacy, and member discount programs, The TAA works with our members and the industry they support to offer the tools and relationship building opportunities needed to maximize professionalism and success.
Since 2018 was the 50th anniversary of the Tobacconist Association of America, there were a large number of releases as part of the 2018 TAA Exclusive Series:
Padrón has played an extensive role in the TAA Exclusive Series. There have been a total of five installments and ten cigars:
Padrón 1964 Toro TAA Exclusive Natural (ongoing)
Padrón 1964 Toro TAA Exclusive Maduro (ongoing)
2018 Padrón No. 89 Natural (*)
2018 Padrón No. 89 Maduro (*)
* Released in 2019
Much of the details of both the Padrón No. 89 Maduro and Natural blends are a mystery. Other than the wrapper being natural or maduro, there isn't much else than has been disclosed about the blends. Both the No. 89 Natural and No. 89 Maduro are rounded 6 x 46 Corona Gordas. The cigars are sold in ten-count boxes.
The Padrón No.89 Maduro opens up with notes of rich chocolate, cedar, black pepper, almonds, earth and an underlying "maduro sweetness" (a fusion of natural tobacco and dried fruit). The rich chocolate notes become primary early on. As the cigar experience progressed into the second third, the earth, cedar, and pepper notes increased. The earth notes increased at a faster rate than the cedar and pepper spice. Late in the second third, the earth notes became primary, displacing the chocolate notes into the background. The almond component significantly diminished by this point. By the final third, the cigar maintained its flavors.
Throughout the smoking experience, the flavors were medium to full in body countered by medium to full strength. There wasn't much variance in the strength and body and both attributes balanced each other nicely.
OVERALL ASSESSMENT
Final Thoughts
This is simply an outstanding cigar by Padrón Cigars. While it's not uber complex, it excels in the flavors that it delivers. In many cases, I have found the TAA Exclusive releases to fall well below expectations for a series that is intended to showcase some of the best cigars by the best manufacturers for the best retailers. This is not the case with the Padrón No. 89 Maduro as it easily stands at the top of the class for the 2018 TAA Exclusive Series. It also performs at the same high level of the original Smoke Inn release. This is a cigar I'd gear to a more experienced cigar smoker, but it's a nice cigar for a novice looking for something medium plus. As for myself, not only is this worthy of a box purchase, but it's also worthy of fighting Chuck Norris for it.
Summary
Key Flavors: Chocolate, Almond, Maduro Sweetness, Earth, Black Pepper, Cedar
Burn: Excellent
Draw: Excellent
Complexity: Medium
Strength: Medium to Full
Body: Medium to Full
Finish: Very Good
Rating
Value: Fight Chuck Norris for Them
Score: 93
References
Previous Assessment: Padrón No. 89 Maduro (Jose O. Padrón 90th Birthday Cigar for Smoke Inn)
News: Padrón Black No. 89 Heading to TAA Retailers
Price: $16.50
Source: Purchased, Espinosa Cigars
Brand Reference: Padrón
Photo Credit: Cigar Coop