Agile Cigar Reviews are cigar assessments where we use a lightweight, shorter format. These will never take the place of our comprehensive reviews. They are only used on blends we have previously assessed. This might be a blend we are rescoring or giving a score for the first time. It might be a blend we are looking at in a different size. Today we look at the David P. Ehrlich PLM Series Churchill. This is a cigar we have assessed before – most recently in the Robusto size in February 2019.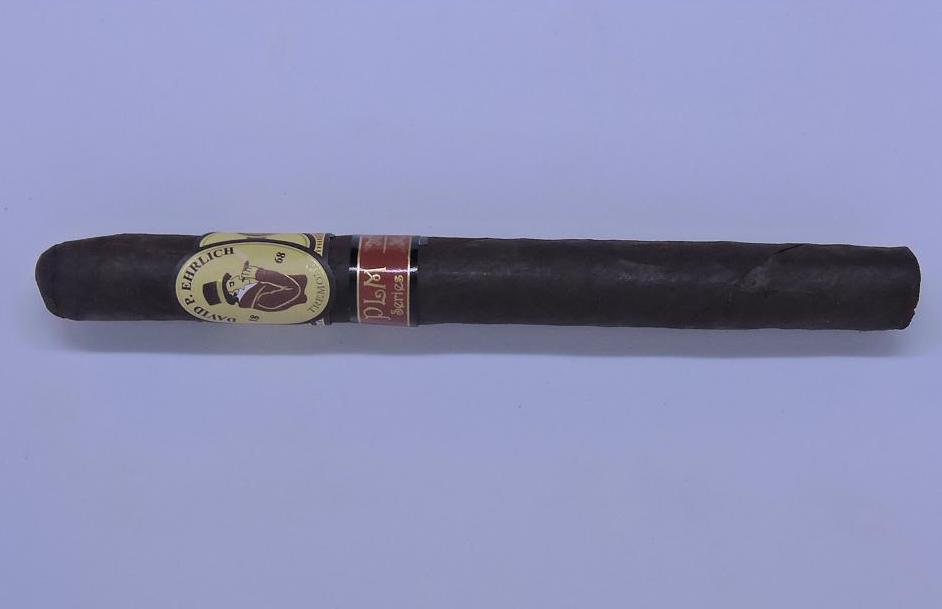 Wrapper: San Andres Maduro
Binder: Nicaraguan
Filler: Nicaraguan, Dominican
Country of Origin: Dominican Republic
Factory: Tabacalera La Alianza
Churchill: 7 x 47
If you are keeping track, the David P. Ehrlich PLM Series is the fifth blend to be released from MLB Cigar Ventures. It's also the second blend under the David P. Ehrlich brand and second blend for MLB Cigar Ventures out of Ernesto Perez Carrillo Jr's Tabacalera La Alianza. Most significantly it's the first maduro blend released from MLB Cigar Ventures. Today, we take a look the David P. Ehrlich PLM Series in the Churchill size.
The David P. Ehrlich brand is described as a partnership by MLB Cigar Ventures owner Mike Bellody and his National Sales Manager, Barry MacDonald. David P. Ehrlich was the name of a historic tobacconist whose eponymous shop was located in the city of Boston. The store traced its history back to 1868. For Bellody, it happened to be the place where he purchased his first cigars over two decades ago. It also turns out that MacDonald's family owned Ehrlich's for almost 40 years. While the store is no longer in operation, MacDonald was able to work with Bellody to bring back the brand – this time to be used for a line of premium cigars. As for the name PLM Series, it pays homage to Paul L. MacDonald, Barry's father.
The blend for the PLM consists of a San Andres Mexican Maduro wrapper over a Nicaraguan binder and a combination of Nicaraguan and Dominican fillers. The Churchill size is a classic 7 x 47 size. The cigars are presented in 20-count boxes.
The David P. Ehrlich PLM Churchill starts out with notes of mocha, earth, a slight maduro sweetness, and a touch of red pepper. The mocha notes were a fusion of chocolate and coffee while the maduro sweetness was a fusion of natural tobacco and dried fruit. Early on the mocha notes were stronger on the chocolate component. As the PLM Churchill progressed, the coffee component of the mocha became more prominent. There was also a slow increase of the red pepper. Toward the latter part of the PLM, the profile had more in the way of a coffee-forward mocha note and red pepper.
The David P. Ehrlich PLM Churchill delivered a medium strength, medium-bodied smoke from start to finish. Both the strength and body balanced each other with neither attribute overshadowing the other.
OVERALL EXPERIENCE
Final Thoughts
In terms of San Andres Maduro cigars that have originated from Tabacalera La Alianza, the David P. Ehrlich PLM Series might be the best blend to come out of that factory. The PLM Churchill delivers an excellent smoking experience from start to finish. That being said, I would still give a slight edge to the Robusto size, as I felt it was a little bolder and a little richer. Still, you can't go wrong with the Churchill as an option. It's a cigar I could recommend to any cigar enthusiast at any time of the day. It's not only a cigar I would buy and smoke again, but it's one that garners box worthy consideration.
Summary
Key Flavors: Mocha (Chocolate, Coffee), Maduro Sweetness, Red Pepper, Earth,
Burn: Excellent
Draw: Excellent
Complexity: Medium
Strength: Medium
Body: Medium
Finish:  Very Good
Rating
Value: Box Worthy Consideration
Score: 91
References
Previous Assessment: David P. Ehrlich PLM Series Robusto by MLB Cigar Ventures
News: David P. Ehrlich PLM Series to Launch June 9th at Underground Cigar Shop
Price: $11.60
Source: MLB Cigar Ventures
Brand Reference: MLB Cigar Ventures
Photo Credits: Cigar Coop