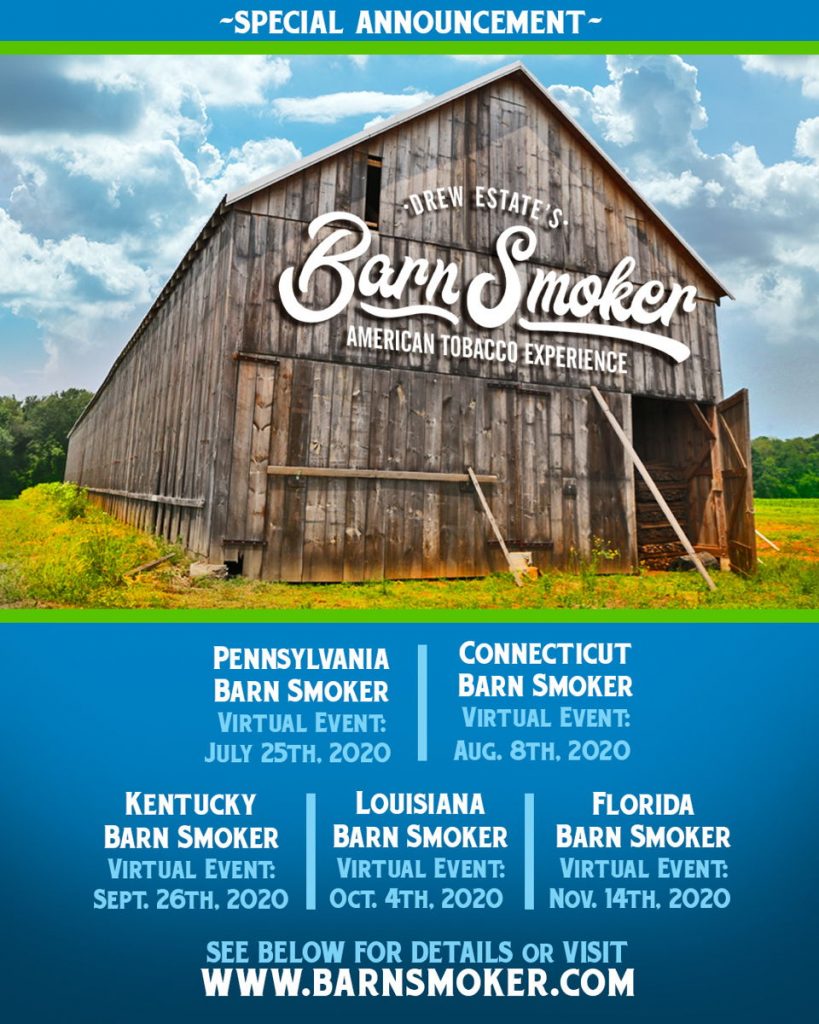 Drew Estate has announced the cancellation of its 2020 Barn Smoker Season. This includes the five Barn Smoker events scheduled for Pennsylvania, Connecticut, Kentucky, Louisiana, and Florida. The events will each be replaced by a virtual events as a part of the "Barn Smoker Goodwill Act of 2020." The cancellations are due to the COVID-19 pandemic.
Earlier this year, the Florida event which was scheduled for May 16th, 2020 was rescheduled for November 14th, 2020. Now that rescheduled event has been cancelled.
For the Barn Smoker Goodwill Act, Drew Estate says:
<blockquote>
The Barn Smoker Goodwill Act works in the following manner … All Attendees who purchased a ticket at any/all tier levels will immediately be refunded 100%. In addition, each ticket holder will be asked to submit their address via https://forms.gle/QAbRLC7XDVEKWVeS9 and Drew Estate will be shipping free of charge the complete 2020 Barn Smoker Swag Set that they would have received by attending their ticketed event. This package does not include cigars and will be shipped out by August 1st. Beyond this, Drew Estate will donate $10,000 per Barn Smoker, for a total of $50,000, to Cigars for Warriors, doubling down on our commitment to our deployed troops.
Finally, on the date of each scheduled Barn Smoker, Drew Estate will launch a two-hour "Virtual Barn Smoker Herf," hosted on Facebook Live, open to everyone. While these Herfs are not designed to be exact Barn Smoker replicas, we plan on celebrating each date together. These unique experiences will include the Drew Estate Ambassadors and our Farmer Partners – and tell a new part of the story not previously showcased during our usual Barn Smoker Festivals.
</blockquote>
The dates for the Virtual Barn Smoker Herfs (hosted on www.facebook.com/drewestatecigar ) are below with times to be announced closer to the event:
Pennsylvania Barn Smoker Virtual Event: July 25th, 2020
Connecticut Barn Smoker Virtual Event: August 8th, 2020
Kentucky Barn Smoker Virtual Event: September 26th, 2020
Louisiana Barn Smoker Virtual Event: October 4th, 2020
Florida Barn Smoker Virtual Event: November 14th, 2020
In a press release, Jonathan Drew, Founder and President of Drew Estate, commented, "It is with great sadness that we've come to this decision. Barn Smoker, alongside Cigar Safari, are the experiential programs that we are most deeply connected to here at Drew Estate. I'm also incredibly appreciative to our Consumer Engagement Team, who architected the concept of the 'Barn Smoker Goodwill Act of 2020' … in my opinion, going above and beyond for our supporters, our extended family, who had made plans to join us on the sacred farms. We thank you for your love and support."