On May 4th, Dave and I will premiere Episode 9 of Prime Time Jukebox – The Cheap Trick Show. We are honored to have band founder Rick Nielsen and his son Erron.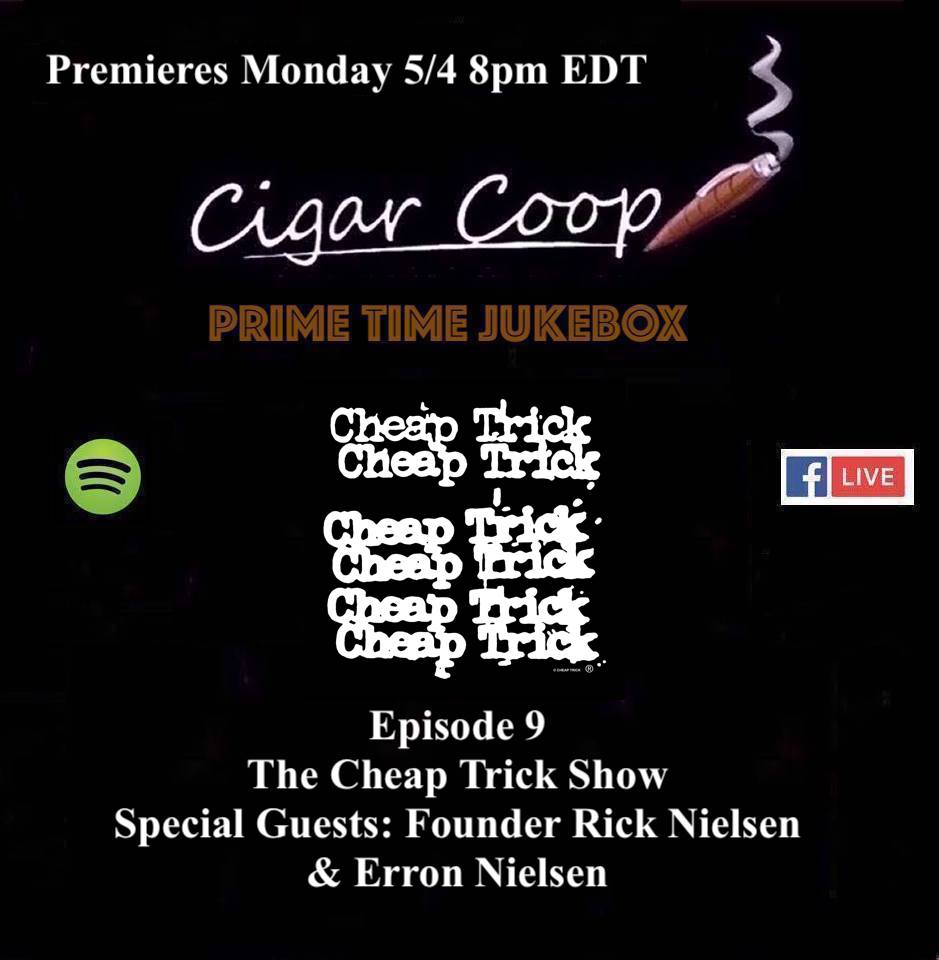 To have this opportunity was nothing short of amazing, and from a personal standpoint, it hits home for two reasons.
First back in the 1970s and 1980s, my grandfather and father owned a limousine company. The company was contracted with CBS Records, for which Cheap Trick was a part of the Epic Records label. My grandfather was the driver for a man named Ron Alexenburg, who ran Epic Records at the time when Cheap Trick joined the label. When Ron left Epic to take over as CEO of Infinity Records, my grandfather went with Ron, and my father became the driver for his successor, Don Dempsey. It was right around the transition time Cheap Trick hit it big with their legendary live album, Cheap Trick at the Budokan.  My grandfather and dad also had the opportunity to drive many artists associated with Epic Records, including my Dad driving Michael Jackson several times. I don't believe either drove Cheap Trick, but it was through them I became familiar with the music. Many times they were given access to demo records and demo albums, and I remember getting a demo copy of the Budokan album right around the time it hit the U.S. I was the first kid on the block to have it. Little did I know what I had in my possession….
A little side note, the company my grandfather and father owned was called Cadillac Limousine Service. As some may know, that also was the inspiration for the ongoing Pink Cadillac theme on Cigar Coop. Another small connection, CBS was run by William S. Paley, the father of La Palina Cigars owner Bill Paley. In recent conversations with my father, I found out he drove Mr. Paley on a few occasions as well.
Also, both Dave and I had an opportunity to get to known Erron Nielsen, Rick's son. And Bear Duplisea and I connected with Erron during Prime Time Special Edition 70.  One thing led to another and we learned that not only Erron was the son of this Rock and Roll Hall of Famer, but Erron was a big cigar fan. Dave and I had the idea of talking cigars with Erron on a Jukebox Show, and gave him an invite. Erron was kind enough to see if his dad wanted to do the show as well, and the wheels were put in motion for Rick to come on Jukebox. In the process, we made a great friend in Erron, and I personally can't wait to have a cigar with him again whether virtually or in-person.
Prime Time Jukebox is the new incarnation of Cigar Jukebox, the concept of bringing together cigars and music that was implemented by Dave Burck. Dave's always been creative with coming up with some great concepts for both Cigar Jukebox and Prime Time Jukebox. This next step with having a Rock and Roll Hall of Famer like Rick Nielsen was something truly special.
We want to thank Rick and Erron for this incredible opportunity and being very generous with their time. We're really happy to share this show with you.
The show premieres at 8pm Eastern Time on Facebook and YouTube.  Once it premieres, you can watch the show here as well.
d

Image Credit: Cheap Trick logo used with permission