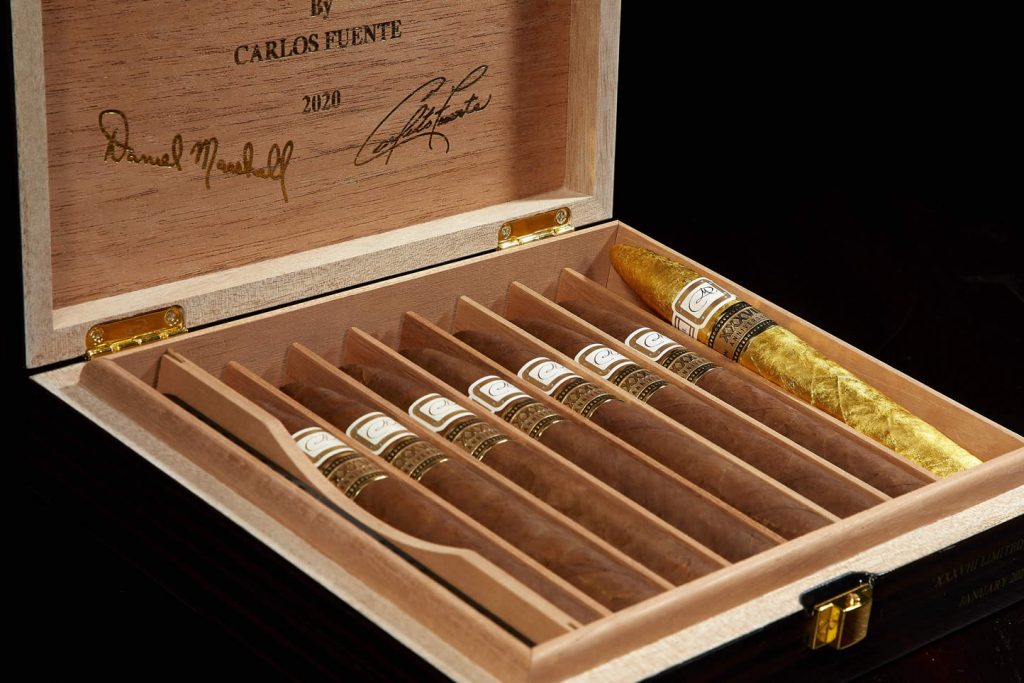 Earlier this year, a collaboration was announced between Daniel Marshall and Carlos "Carlito" Fuente to create the 38th Anniversary Cigar for Daniel Marshall. This week, Daniel Marshall has announced that it has selected 38 tobacconists and iconic hotels to receive the Daniel Marshal by Carlos Fuente XXXVIII Anniversary Cigar.
The Daniel Marshall by Carlos Fuente XXXVIII Anniversary Cigar was announced back in February. The following month, on March 5, 2020, Daniel Marshall visited Carlito Fuente in Santiago, Dominican Republic. During that meeting, Fuente suggested to Marshall that he wrap one of the eight cigars in each box with 24kt gold. "Anyone collecting these rare cigars in the special humidor will be collecting history," said Fuente in a statement. Both the cigar and humidor symbolize the best of what the two men have created over their lifetimes.
The XXXVIII Anniversary cigar consists of tobaccos from Chateau de la Fuente in the Dominican Republic. The cigar is made by a single roller at Tabacalera A. Fuente in a special room where the most-premium Fuente cigars are made. According to Marshall, this roller produces only 12 XXXVIII cigars per day.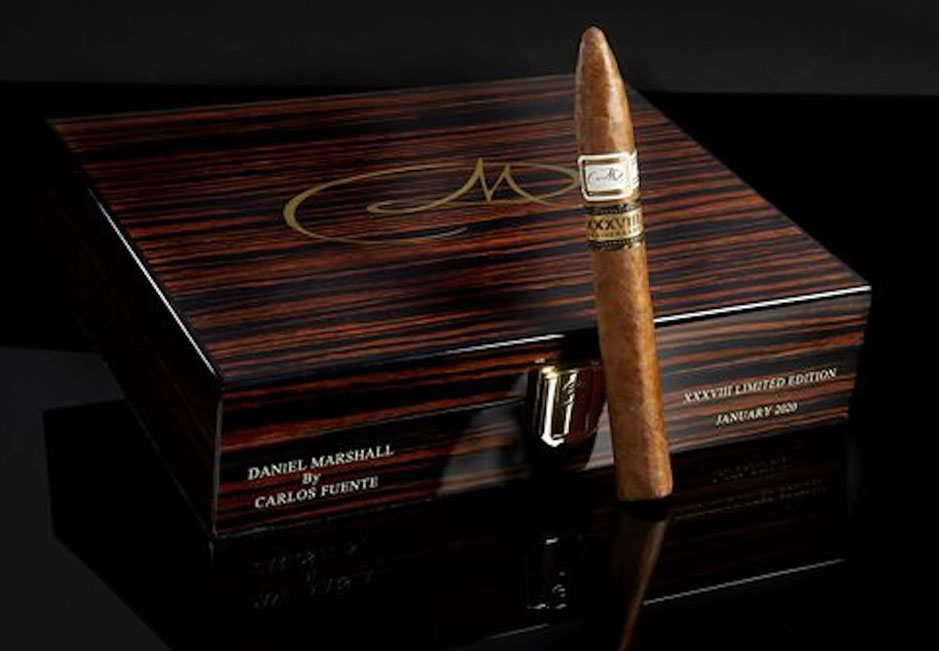 The cigars will be packaged in a Daniel Marshall Limited Desk-Travel Humidor handcrafted in Macassar Ebony that was designed by Marshall and Fuente. Each humidor contains:
(1) Daniel Marshall by Carlos Fuente 24kt Gold XXXVIII Anniversary Cigar with 2 grams of pure 24kt gold personally rolled on each Golden Cigar by Daniel Marshall
(7) Daniel Marshall by Carlos Fuente XXXVIII Anniversary Cigars
(1) Daniel Marshall by Carlos Fuente XXXVIII Anniversary Cigar to be enjoyed in the "Virtual Campfire with Daniel"
In addition, each humidor will come with a hand-signed commemorative book, "38 YEARS," a book that chronicles the story of this cigar and of the Daniel Marshall journey from the creation of a thank you gift in 1982 to today. Collectors of the cigar will also receive a complimentary membership in the DMCC – The Daniel Marshall Campfire Club. Upon enrollment, each member will receive a "Since 1982" Travel Aluminum Cigar Ashtray, DM Cutter, DM Torch Lighter, and the DMQ Magazine as well as valuable benefits and exclusive offers.
As for the XXXVIII humidors, each will be individually numbered. Celebrities have reserved special numbers including Steve Harvey (No. 17 for the day of his birth), Wayne Gretzky (No. 99 for the number he wore when playing professional hockey), Andy Garcia (No. 1 which is his favorite number), and Michael Jordan (No. 23 is the number he wore when playing professional basketball). Marshall is offering those that order the cigar during early allocation the opportunity to choose the number of the piece.
Pricing of the XXXVII humidor ranges from $1,500.00 to $2,000.00 USD varying by region.
Distribution for the XXXVIIII will be allocated in phases across 25 countries and 5 continents. More of the world's most prestigious locations that meet the criteria will be added in the near future. These regions include:
North America
USA
Corona Cigar Company, Florida
Sir Louis Cigars, Massachusetts
Red Beard Cigar Co, Arizona
Lord Puffer Tobacconist and Lounge, California
Mexico
Europe
England
Davidoff of London, London
Germany
France
Austria
Belgium
La Casa Del Tabaco – Brussels
La Casa Del Tabaco – Antwerp
La Casa Del Tabaco – Kortrijk
La Casa Del Tabaco – Hasselt
La Casa Del Tabaco – Brugge
Netherlands
Hajenius – Amsterdam
Oude Leeuw – Rijswijk
Piet van Kuyck – Eindhoven
Hans van Werven Cigars – Apeldoorn
De Graaf – Den Haag
Switzerland
Denmark
Norway
Spain
Africa
South Africa
Portia Cigar and Champagne Lounge, Sandton
Asia
Abu Dhabi
Dubai
Qatar
The Humidor and Cigar Shop
Lebanon
India
Japan
Hong Kong
Malaysia
Vietnam
Singapore
Thailand
Russia
A behind the scenes video of the making of the Daniel Marshall XXXVIII by Carlos Fuente and the limited edition humidor was filmed.
Photo Credits: Barone Photography, supplied by Daniel Marshall
Video Credit: Daniel Marshal