Whiff Industries, manufacturer of Whiff Out® Odor Neutralization products has launched two new products to be added to their portfolio: Odor Eliminating Reed Diffusers and Odor Eliminating Wax Melts. Both products are featured in all three scents, Classic, Rustic, and Vintage. The two new products combined with Whiff Out's existing Crystalizer Ashtray Deodoriser and Mist Odor Eliminator create what the company calls a Total Odor Neutralization System which is used in four stages.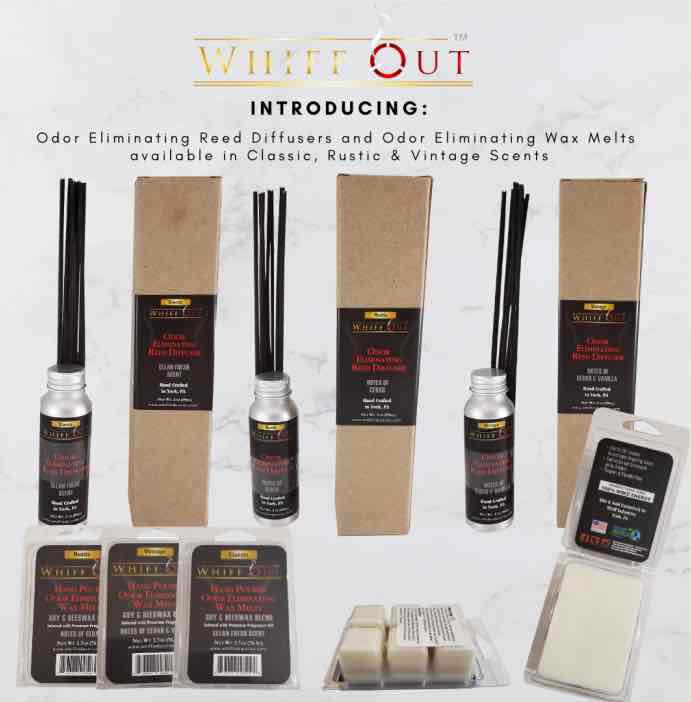 Stage 1: Whiff Out™ Odor Eliminating Reed Diffuser (New Product)
Whiff Out's natural rattan reed diffuser acts as a continual source of odor elimination emitting a subtle scent that will not take away from the nuances of a cigar aroma while complimented by Whiff Out's revolutionary crystalline ashtray deodorizer. According to the company, these two products eliminate ashtray odors and remove the malodor in the air without taking away from the cigar experience. All or a few reeds can be flipped as needed depending on the level of odor neutralization required.
Stage 2: Whiff Out™ Revolutionary Crystalline Ashtray Deodorizer (Existing Product)
This product is meant to eliminate stale ashtray aroma while emanating a light, pleasant scent. Immediate clean-up is not necessary as the crystalline deodorizer uses surface acting scent technology to neutralize the odors in vehicles and in the home.
Stage 3: Whiff Out™ Odor Eliminating Wax Melt (New Product)
The Wax Melt is a hand-poured blend of soy & beeswax is paraffin, paraben, phthalate, and dye free. The wax melts naturally remove odors and pollutants while cleansing the indoor air quality. Each cube is activated by melting it. The cubes can be remelted three times before they lose their effectiveness for cigar odor (although the company says it still can be used to actively combat malodors in the environment). Once a cigar experience has been finished, the wax cube(s) can be melted for 20 minutes to molecularly neutralize malodors and cleanse the air of pollutants, naturally.
Stage 4: Whiff Out™ Spray Mist Odor Eliminator (Existing Product)
The ultra-fine spray mist is colorless, aerosol free, non-oil based, travel friendly, and can be used to eliminate unwanted residual smoke odor on clothing, air and ventilation systems as well as carpets and upholstery in vehicles.
"We have been looking to grow our portfolio and have been working on perfecting the development of these products for three years. Having the opportunity to really take a deep dive into our customers' requests and be able to see them to fruition is very exciting," said Holly Howard, Sales Director of Whiff Industries in a press release. "With the current lifestyle shift due to the pandemic and cold weather closing in- the smoking industry as a whole is now forced to relocate where they have been enjoying their smoke of preference. We sourced the highest quality composition of ingredients and have created odor eliminating reed diffusers and wax melts to complement our already effective crystalline ashtray deodorizer and spray odor eliminator to freshen one's environment, making the smoking experience more pleasant for all."
These products will be available for immediate purchase on whiffindustries.com and will be available at retail partners in the coming weeks, just in time for the holiday season.
Photo Credit: Whiff Industries