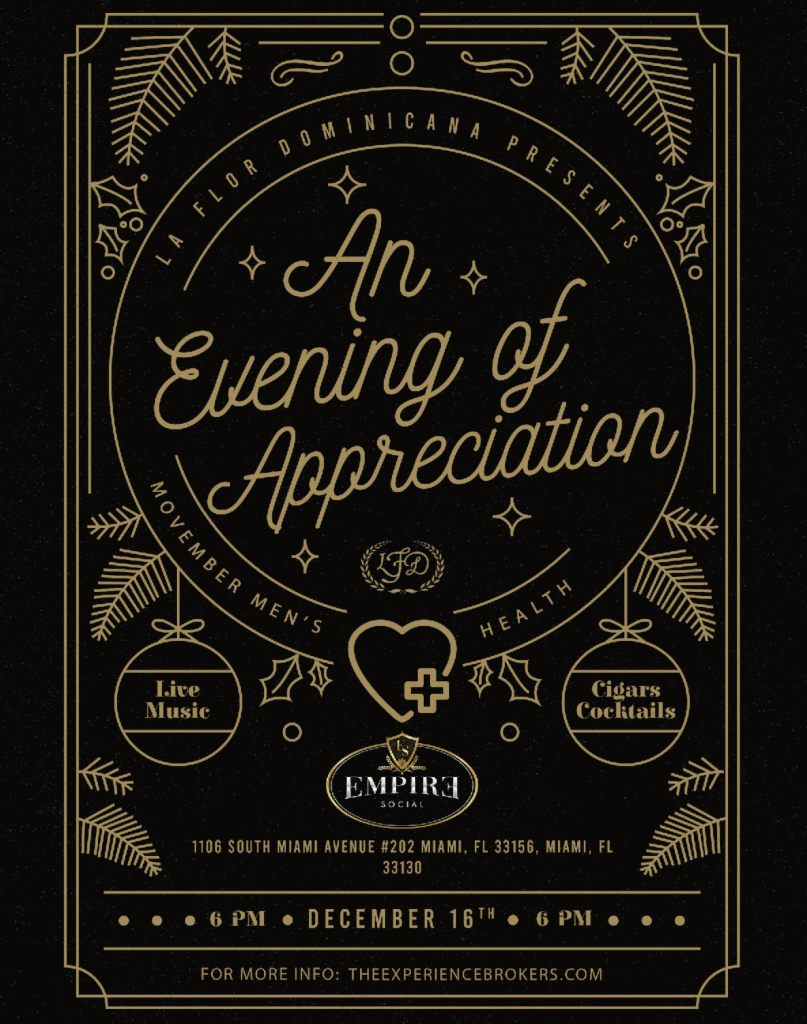 La Flor Dominicana has announced it will host a charity event called "An Evening of Appreciation." It's an event that benefits the Movember Foundation and men's health. The event will also feature an exclusive cigar called The Litto Gomez "Mustache" cigar. Scheduled for December 16th, the event will be hosted by Empire Social Lounge in Miami, Florida, and feature a live broadcast for those wishing to participate remotely.
An Evening of Appreciation is the creation of Litto Daniel Gomez, the son of LFD founders Ines and Litto Gomez. This event is a way to give back and appreciate the struggles we all face during these challenging times with a focus on men's mental health. "An Evening of Appreciation" will raise funds for those in need while providing an escape to a more normal environment that we all used to enjoy regularly.
The Litto Gomez Mustache Cigar is a 6 1/2 x 60 Dominican puro from the Litto Gomez Diez line and as the name indicates, it will feature a tobacco art mustache. Pricing for the Mustache cigar is $15.00 and will be available for sale exclusively through Empire Cigar Lounge beginning the evening of the event and onsite during the event broadcast.
Litto Daniel Gomez, along with La Flor Dominicana Vice President of Sales Jonathan Carney will be in attendance at the event.
"An Evening of Appreciation" will take place on December 16, 2020, at 6:00 pm eastern time with the live virtual broadcast streaming on La Flor Dominicana's Facebook page at 7:00 pm eastern time. "An Evening of Appreciation" is an open event and all are welcome to participate remotely or in person.