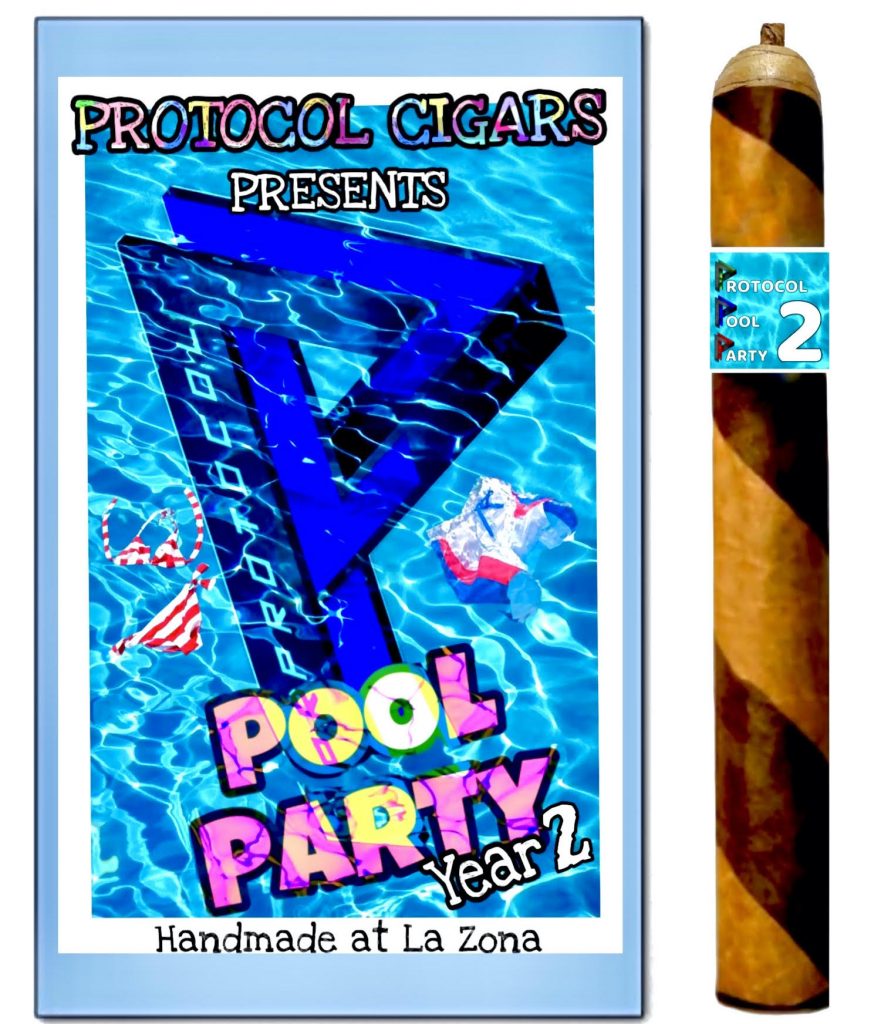 On Saturday July 17th, Protocol Cigars will have it's second annual Pool Party. Like last year, the company will offer a special exclusive cigar to all attendees. For this event, the company has announced that cigar will be its first barber pole offering.
The cigar itself will feature a Mexican San Andres Maduro leaf and a Connecticut Shade leaf intertwined together like a barber pole. It will be a 6 x 52 Toro featuring a rabito-style cap. The Protocol Pool Party Year 2 cigar will be available in 10-count paper bundles with a total of 250 bundles produced. Production is handled at Erik Espinosa's La Zona factory in Estelí, Nicaragua.
In a press release Juan Cancel, owner and founder said: "We are always looking to do interesting things with our limited releases. We were always curious about doing a barber pole but didn't want to do anything too gimmicky when it came to the actual cigar. However for a cigar that will be given to those attending our Year 2 Pool Party a barber pole cigar seems perfect! What's even more exciting is the fact we are using the wrappers of the Themis and Probable Cause to make a really cool and unique cigar only available to those attending this special event!!!"
As with the original Protocol Pool Party cigar, the Protocol Pool Party Year 2 will not be for sale. The cigars will be given to the first 250 attendees to the Protocol Pool Party on Saturday, July 17th.
As for the event, this will be a ticketed event held at the Chelsea Sun Inn. It will be an 100% outdoor event on a 200 acre property with an Olympic size pool and hot tub. There will be a DJ and a Live Band. Protocol Cigars says the event will be 100% compliant with all PA State Covid Rules and Regulations. Like last year, the company has implemented several levels of protection to all attendees as they did last year.
"We again wanted to do something special for our supporters, especially since everyone has been locked at home for all of 2020. The demand to attend and numbers have grown exponentially for this event and needed to move to a bigger venue from last year's venue. We have again implemented safety precautions to ensure everyone's well being. The health of our supporters is of the utmost importance to us. With that said everyone will be safe and a everyone will have a fantastic time!!!" added Kevin Keithan, co-owner Protocol Cigars.
The regular price for attending the pool party will be $200 and that will include the bundle of the Protocol Party Year 2 Cigar, Pool Party Swag, Protocol gators, with all you can eat food and top shelf open bar. The company is also offering an early bird special to those who buy before March 31st that will offer the same ticket priced at $150.00.
For more detailed event information, visit the company's website at https://www.protocolcigars.com/events or their social media platforms.
Image Credit: Protocol Cigars