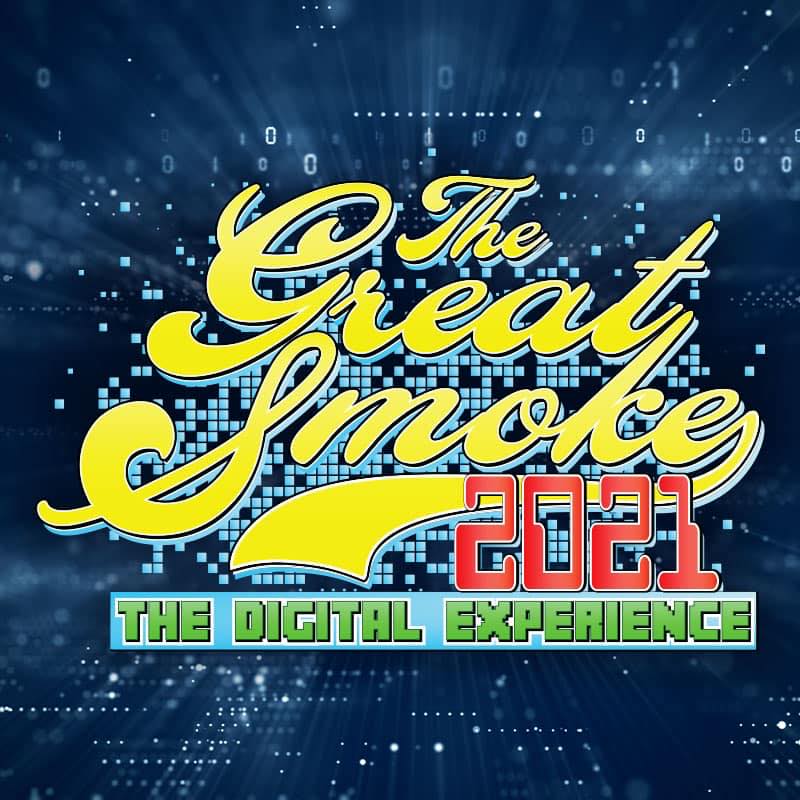 As many know, I am not a fan of event recaps and I'm not going to deliver one here. This past weekend, the mold for virtual events was broken as Abe Dababneh and Smoke Inn delivered what was dubbed "The Great Smoke 2021 – The Digital Experience." It made history for cigar media and set a new standard for a broadcast.
Over the past 15 years, Smoke Inn's "The Great Smoke" has emerged as one of the premier cigar festivals we have in the United States. With the COVID-19 pandemic, it was clear that the 2021 event was in jeopardy, so Abe and his team had to make the difficult decision of not doing an in-person event. Instead, a virtual version of the event would take place. Doing a virtual event in place of an in-person event is nothing new. We've seen many of these in 2020. When Abe mentioned he was considering a virtual alternative, I knew if anyone could pull such an even off in grand style, it was him.
Back in September, the in-person Great Smoke event was officially cancelled and Abe's vision of "The Great Smoke – The Digital Experience" was unveiled. When it was announced Abe commented:
"Imagine if you will, a Jerry Lewis Telethon meets QVC format for an analogy," stated Abe Dababneh. The 8 hour broadcast will be an interactive one and consist of featured manufacturers, sponsored interactive liquor demonstrations, live entertainment, dancers, comedians, musicians, hourly raffles and giveaways, and a specially built portal for attendees to take advantage of event only promotions and sales.
"The scope of this project will be huge and is honestly hard to put in words at the moment. The broadcast will be done in front of a small live audience and Showtek Productions, out of Atlanta, has been hired to handle all aspects of the production and broadcast. Showtek has been behind many major national broadcasts such as The Golden Globes, The Kings of Comedy, and Soul Train to name a few. It is very important to us to create something special. Something fans and consumers will talk about for months, long after the event is over. We even have some very special limited releases scheduled to debut the day of the event. While I still believe that nothing can match the physical experience of attending a Great Smoke, I am determined to create an equally special and exciting experience for aficionados all over the country."
Essentially, Abe was bringing a television-style cigar industry production to the media landscape. Over the years, cigar media has certainly evolved when it has come to broadcasts. As a part of Stogie Geeks, we were the first to utilize a podcast studio for a cigar broadcast (something this author is very proud of). Later, David Garofalo took things to the next level turning a podcast studio into not just something for his own The Cigar Authority broadcast, but a platform for other podcasts in other genres to utilize.
Last month we did a pre-game show on the event, and Abe went into more detail of the framework.
While Abe did a great job at articulating a vision for the event, I don't think many understood the scope of what he was undertaking. It wasn't just an elaborate "Tonight Show" style set with a desk and couch, the behind-the-scenes structure was phenomenal. This included a massive support staff handling things like lighting, video and sound engineering. It was also a massive production effort coordinating segment changes, bringing in in-person guests, entertainment, live remotes, and product sales. The broadcast went seven hours, and there was not one bit of dead-air time during this broadcast.
Attendees got the opportunity to purchase the Party in a Box which included 40 premium cigars and swag at an incredible value-price of $169.00. Anyone watching the broadcast had an opportunity to take advantage of some very good deals, and attendees got the opportunity to purchase limited products. If you are interested in finding out what the 40 cigars were, we did a special livestream here.
I haven't had a chance to talk to Abe in a post-game fashion, but if you saw the broadcast you can see Abe was moved in terms of how everything came together. There always can be a Monday Morning Quarterback on things around the broadcast, and knowing Abe as I do, he is one to see how things can be done even better the next time around. In this case, the positives far-exceeded the minuses. In the end, it's the historical nature of this broadcast that is most notable. A small industry like the premium cigar industry can play on a Hollywood stage.
One question I asked myself is how much better would an already excellent broadcast like the TGS Digital Experience have been if there wasn't a pandemic going on. Imagine if our trade associations featured this type of production and content? A broadcast like this from the PCA Trade show would be something that could promote our industry – and make the content available to both cigar enthusiasts and cigar enthusiast wannabes.
At the end of the broadcast, Abe announced that the plan is to bring back The Great Smoke as an in-person event in 2022. As for the future of these types of this type of event for the cigar industry, it will be interesting to see. Certainly, I'd like to see what could be built on what we saw. The possibilities seem endless in terms of what could be done. Whether it's a financially sustainable model will be the ultimate question, but somehow I don't think we've seen the last of this.
You can watch a replay of the broadcast here.