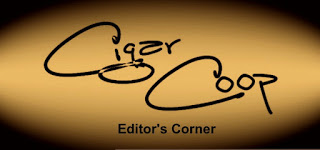 Over the past several months, I've attended my share of cigar events.  At each event, there is one question that is asked…. "are you going to blog about this event?"
I'll give the answer up-front, and then explain the reasons.  Taking our sponsors out of the equation, 90 percent of the time the answer is "No".

This isn't meant to be crass or arrogant.  First up some context.  For the past three years, I have not considered Cigar Coop to be a blog.  I've always said the concept of "blog" is too limiting to what we do.  We report news, we do in depth-reviews, and now with our Stogie Geeks brand, we have a weekly podcast.
Secondly, our focus on the Cigar Coop brand is primarily around cigar products.  The Stogie Geeks brand gives us an avenue for cigar conversations and topical segments, but with Cigar Coop our focus is always around the product – what to expect, and how does it rate.
IPCPR is one event we cover because it allows us to bring you comprehensive information around the products.  If you followed our coverage the past couple of years, we don't focus on the booths or the couches in the booths, we focus on the product.
That same philosophy carries over to any event we go to.  If we attend an event, and we learn of new product, we will report on that product.  We feel that is newsworthy and it also remains within the parameters of the Cigar Coop mission statement to cover product.
The idea of writing of an event recap is something that was tried very early on.  What I discovered is that it was pretty boring.  It was almost like a boring re-run of rehashing a plot.   How many times do you want to post a picture you get taken with an industry personality? How many times could you write we smoked, ate, and drank and had a jolly old time?  I'm not saying it's not fun, it's just not interesting to write about it – and our page views reflect that.  We would rather say "so and so brought this new product, and here's what to expect."  If it is a world premiere launch, it probably makes more sense to report it before the event – as that would generate more interest.  That is the ten percent part of our answer.
At the same time if the event sucked, are we going to write "the event sucked"? Probably not.
Could we do an interview with a cigar personality live from the event?  It's a possibility, and it's something we have done.  But the logistics and costs for a remote are often challenging, and we could easily do the interview remotely or from our new studios we use for Stogie Geeks.  It remains an option though.
Of course, for our sponsors, we cover events on request as well as help them promote it through our brands.  We value our relationship with our sponsors and to cover an event for someone who isn't a sponsor really isn't fair to our sponsors. We will work to provide value to our audience on the value our sponsors bring – as well as insights on the product.  Expect to see some of these soon on Stogie Geeks.
Finally, there are times this author wants to actually kick back and enjoy the event, not work it.
In the end, there might be places for event recaps, just not on Cigar Coop.
Cigar Coop / Stogie Geeks Update
One week ago, Cigar Coop published for its 600th consecutive day.  We don't take any off days, and our content is never back-dated.  We also try to having meaningful and fresh content everyday that is newsworthy and cigar-worthy.  We are proud of this accomplishment, but we thank the readers and viewers for their tremendous support over this period.
We also announced the opening of the G-Unit Studios in Rhode Island.  We now have our own studios to broadcast Stogie Geeks.  There are a lot of benefits for this, including making our production process smoother.  However, you as the audience can attend the show live in the studio – or go next store to our sponsor the Havana Cigar Club and watch from the comfort of a cigar lounge. We have the details here.