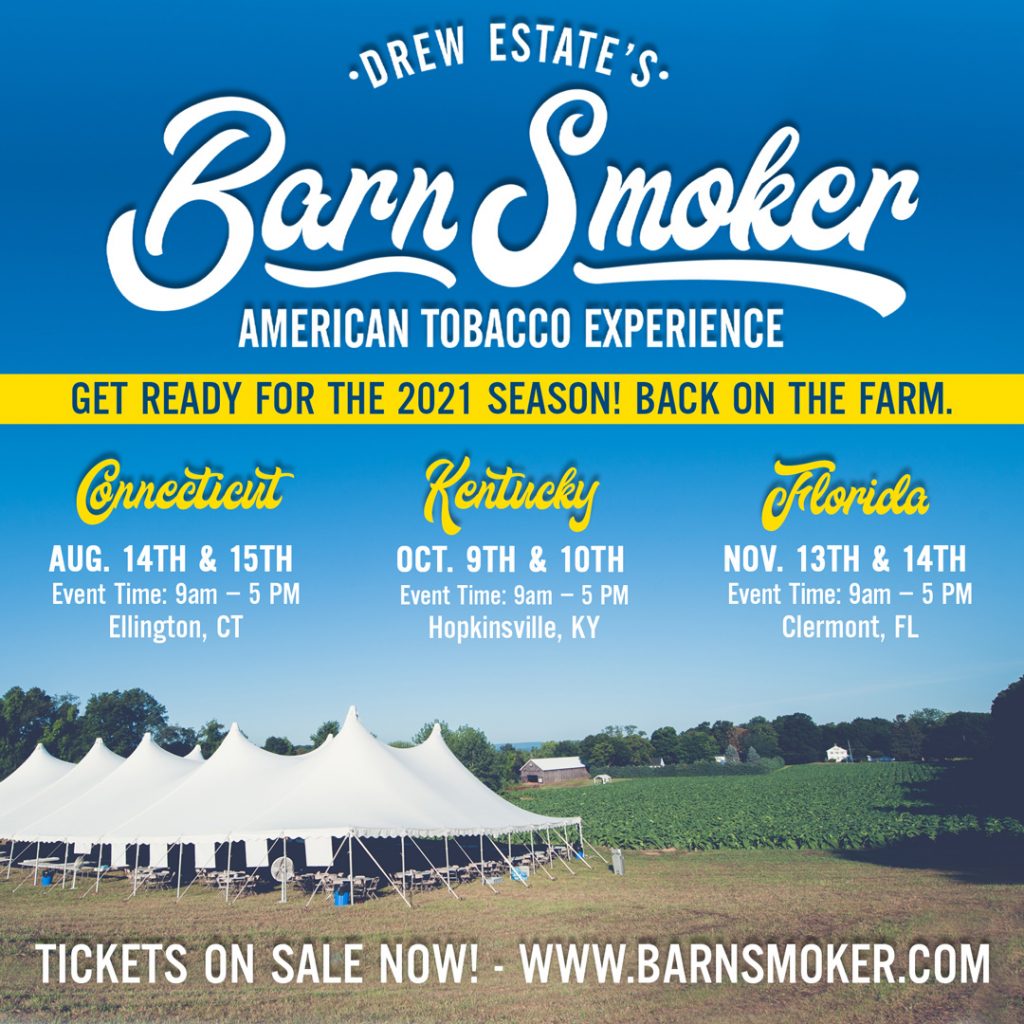 After being put on hiatus for a year due to the COVID-19 pandemic, Drew Estate has announced it is resuming its Barn Smoker Event programs. The company will host three Barn Smokers beginning with the Connecticut Barn Smoker on Aug. 14-15 in the beautiful Connecticut River Valley. The Kentucky Barn Smoker will follow in Hopkinsville, Kentucky, on Oct. 9. Finally, the Florida Barn Smoker will take place on Nov. 13-14 in Clermont, Florida.
There will be two notable changes to the events in 2021. The first is that the events will take place in three locations as opposed to five (Pennsylvania and Louisiana are not on the schedule this year). Second is that the events are being spread over two separate event days to accommodate smaller crowds. Each event day will require a separate ticket. The smaller crowds are meant to take in COVID-19 safety protocols and Drew Estate will also follow any additional local protocols that are required.
The Barn Smoker experience is meant to allow attendees to learn about tobacco growing, leaf processing and finishing, and cigar-making techniques. Each guest will receive special Drew Estate cigars and exclusive Barn Smoker swag. Local cuisine and premium spirits will also be available. The focus will be on Drew Estate brands including: Undercrown, Herrera Estelí, Pappy Van Winkle, Joya de Nicaragua, FSG, Tabak Especial and ACID. Attendees expected to be in attendance include Jonathan Drew, founder and president, Willy Herrera, Master Blender, and Pedro Gomez, Factory Spokesman.
In a press release, Drew Estate's founder and president, Jonathan Drew says, "Last year was tough for everybody and we all missed celebrating American tobacco, smoking and having a drink together … but 2021 is going to prove that we are all unbeaten and unbowed. This year's Barn Smokers will have a bit more special meaning than before because we're finally going be together again in #fellowship after a long period of isolation. I'm excited to bond with everyone and raise money for our Cigars For Warriors peeps."
There are three ticket tiers available for each Barn Smoker: General Admission, VIP, and VIP Plus Dinner. General Admission tickets enable consumers to attend one day of the Barn Smoker event and include a packet of swag and 10 Drew Estate cigars. Consumers who purchase a VIP ticket will have early access to the farm to attend a Tabak Especial breakfast experience and receive exclusive VIP Barn Smoker swag. The VIP Plus Dinner ticket will include an invitation to dinner with Drew Estate Ambassadors on the Friday night before each Barn Smoker, early access for a Tabak breakfast experience, and admission for both days of the 2-day farm event.
Drew Estate has announced earlier this week it will begin a phased return to in-person events starting in June. Since the pandemic outbreak, Drew Estate had been doing exclusively virtual events.
Tickets and more information about the 2021 Barn Smokers are available at www.barnsmoker.com.