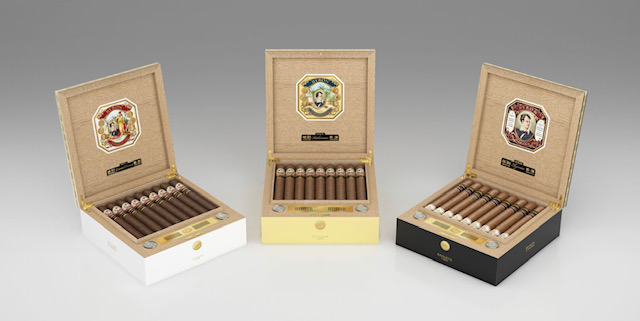 United Cigars has announced it is releasing three humidors containing 2015 vintage cigars from the three Byron lines. The humidors include: Byron 19th Century Poemas, Byron 20th Century Habaneros, and Byron 21st Anniversary Elegantes.
The Poemas and Habaneros were rolled in 2015 and have been subject to five years aging post-rolled. The Elegantes were rolled in 2016 and have been subject to four years post-roll aging.
"Vintage is a term that is at times misunderstood, yet when Nelson Alfonso of Selected Tobacco releases blends with 5 years of post-roll age decorated by a uniquely designed humidor the term is fitting, " commented United Cigars in a press release.
A total of 200 numbered humidors for each blend have been released. Each humidor contains 25 cigars for that blend. The humidors are French White Oak lined with embossed hinges, temperature gauge, hygrometer, and push button closure.
"The bar is raised every time Nelson Alfonso takes a concept to reality." said Oliver Nivaud, Director of Operation for United Cigars. "The only flaw may be that we are limited to 200 humidors."
At a glance, here is a look at the blends for the Byron 2015 Vintage Humidor releases.
Byron 19th Century Grand Poemas – 2015 Vintage (Aged 5 Years Post-Roll)
Wrapper: Ecuadorian
Binder: Undisclosed
Filler: Undisclosed, Nicaraguan, Peruvian
Country of Origin: Costa Rica
Factory: Tabacos de Costa Rica
Poemas: 6 x 56
Byron 20th Century Habanero – 2015 Vintage (Aged 5 Years Post-Roll)
Wrapper: Ecuadorian
Binder: Undisclosed
Filler: Undisclosed, Dominican, Peruvian
Country of Origin: Costa Rica
Factory: Tabacos de Costa Rica
Habaneros: 6 x 54
Byron 21st Century Elegantes – 2016 Vintage (Aged 4 Years Post-Roll)
Wrapper: Ecuadorian
Binder: Dominican
Filler: Undisclosed, Peruvian
Country of Origin: Costa Rica
Factory: Tabacos de Costa Rica
Elegantes: 6 1/8 x 55
Photo Credit: United Cigars