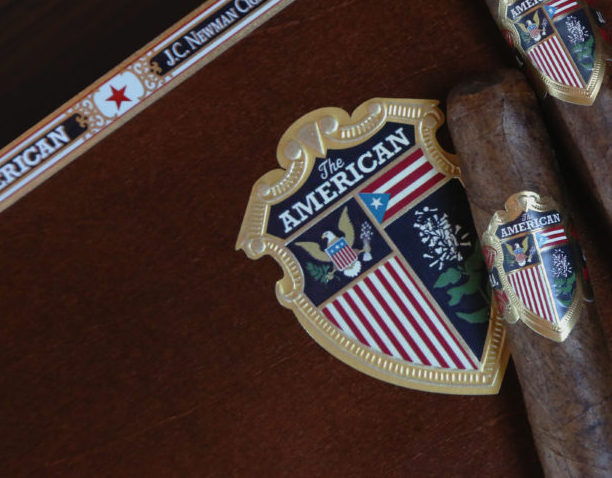 J.C. Newman Cigar Company has added a fifth cigar to its The American line in the form of a 5 1/2 x 56 Double Robusto. The cigar is the first line extension to The American brand and will feature a slightly modified blend. News of the release was first reported by Halfwheel and more recently by Cigar Aficionado.
The American is a resurrection of an old brand in the J.C. Newman portfolio that was spearheaded by Drew Newman and Ariel Peters. The reincarnation pays homage to U.S. cigar-making. It features all U.S. tobacco and everything about the cigar is be American-made, including the boxes, the box hinges, the labels, and even the molds. The American is rolled and packaged at J.C. Newman's El Reloj factory in Ybor City, Tampa, Florida.
The American is highlighted by using tobacco from Florida, Connecticut, and Pennsylvania. In particular, the wrapper comes from Jeff Borysiewicz's FSG farm in Clermont, Florida. This is significant because it marks the first time tobacco from the FSG farm has been used on a major premium handmade cigar release. The remainder of the blend consists of a Connecticut Broadleaf binder and fillers consisting of Pennsylvania and Connecticut Habano tobacco.
For The American Double Robusto, an additional leaf of Pennsylvania ligero was added to the filler to make it a bolder cigar. The cigars come packaged in 20-count boxes with pricing set at $17.50 per cigar.
The American is currently en route to retailers just in time for the Independence Day holiday and is anticipated the cigar will be showcased at the 2021 Premium Cigar Association (PCA) Trade Show that opens in Las Vegas on July 10th.
Photo Credit: J.C. Newman