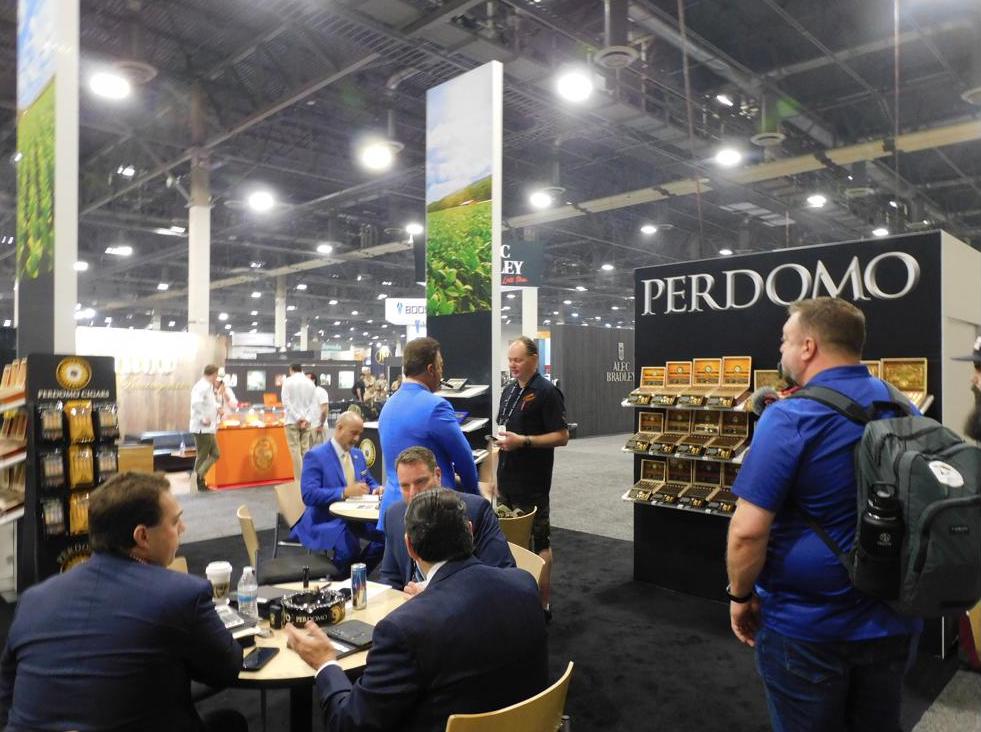 For the past few years, Perdomo Cigars has been known to have one of the more elaborate booths at the Trade Show. This has included Macy's department-store-like displays, a big video screen, and of course Nick Perdomo's iconic drum set. This year, Perdomo Cigars went in the direction of economy of scale and had a much simpler booth. The booth was still was laid out quite nicely – showcasing the products very well and providing enough workspace for the Perdomo team to do business. When it comes to merchandising and placing product in a humidor, Perdomo Cigars is at the top of the game – and the displays were impressive.  The booth was also bustling with activity throughout the whole trade show. Perdomo had some newer products to show off, including a surprise item that was unveiled at this year's show.
Perdomo is a company that has never worried about "what's new" and over the past few years, it has had success revamping some of its classic lines. 2019 saw a revamping of the Perdomo Estate Selection Vintage (ESV) and 2020 saw the Perdomo 10th Anniversary Reserve line get new Sungrown and Maduro offerings. Perdomo has been wildly successful with those releases. Fast forward to earlier this year in 2021 and Perdomo has brought back the Perdomo Inmenso line.
Perdomo was one of the pioneers in large ring gauges when it first released the Perdomo Inmenso in the early 2000s. Now dubbed Perdomo Inmenso Seventy, it's a line of 70 ring gauge cigars offered in Sun Grown and Maduro options with three sizes: 5 x 70, 6 x 70, and 7 x 70. The line also got a very nice packaging makeover.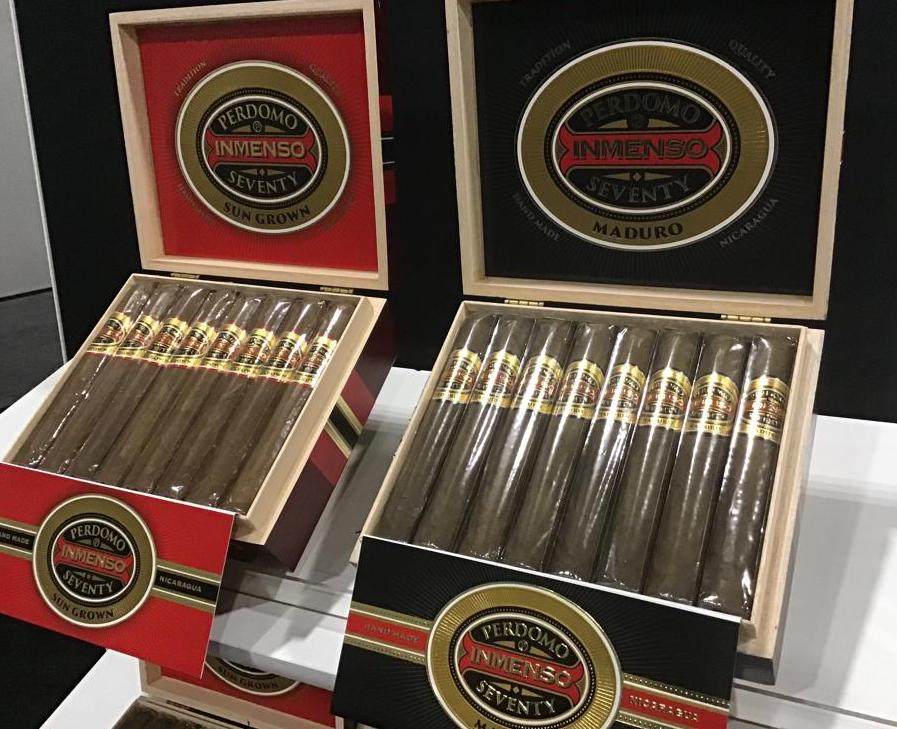 As mentioned above, Perdomo added the Perdomo 10th Anniversary Sun Grown and Maduro options into the portfolio in 2020. While those have also been widely successful releases, they were never showcased at a PCA Trade Show because COVID-10 wiped out the PCA 2020 event. This year would provide the opportunity for both of these lines to have their moment in the sun.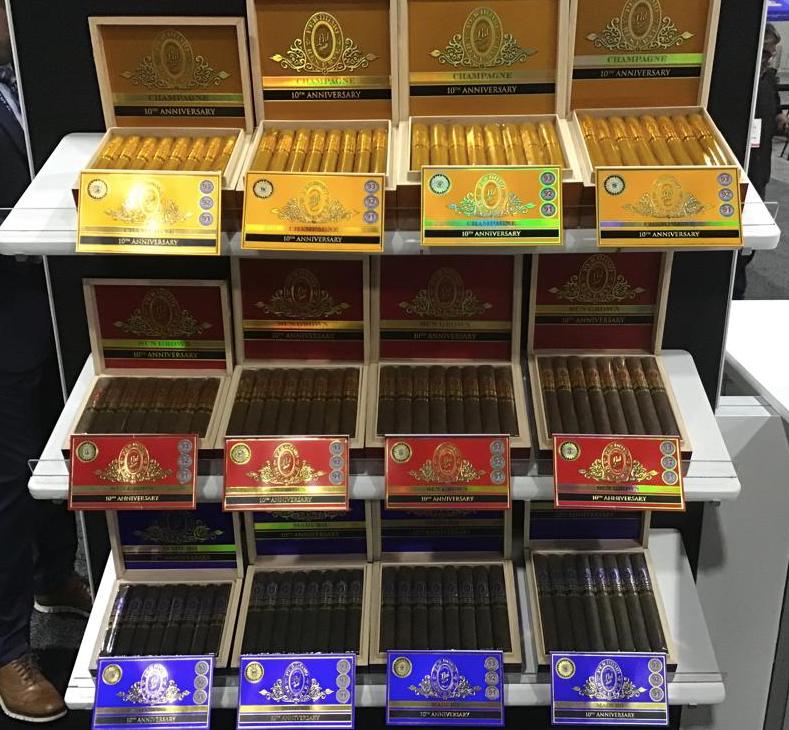 Finally, Perdomo surprised us with a series of sampler offerings known as the Perdomo Connoisseur Collection. This series consists of four different sampler offerings. There are three collections representing Perdomo's signature wrappers (Connecticut Shade, Sun Grown, and Maduro), and a fourth collection known as "Award Winning" that includes Perdomo's highest-rated and award-winning cigars. Each collection includes two different toro-sized cigars from six different blends.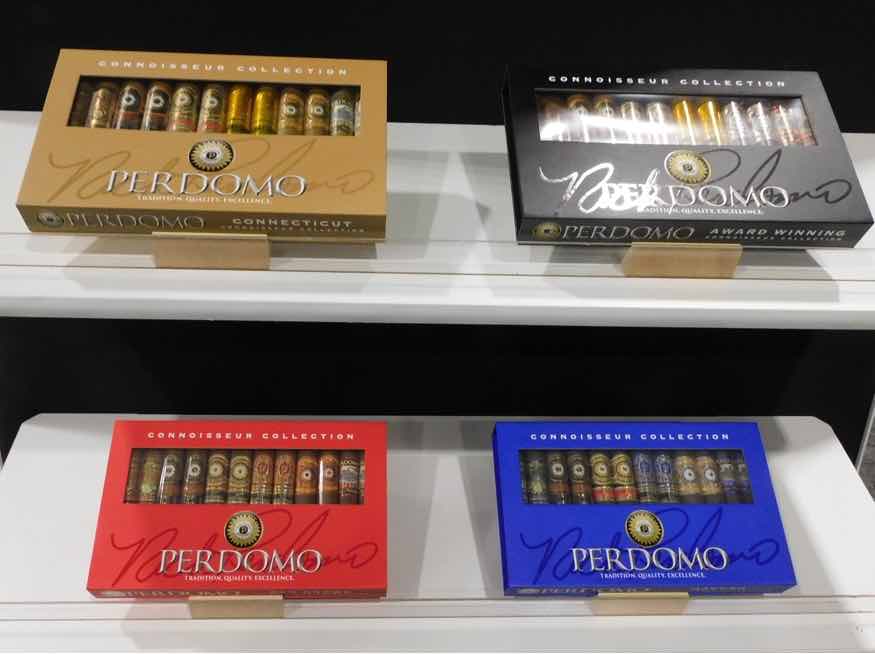 Our team decided to color coordinate with Nick when we stopped by for the Perdomo interview :-).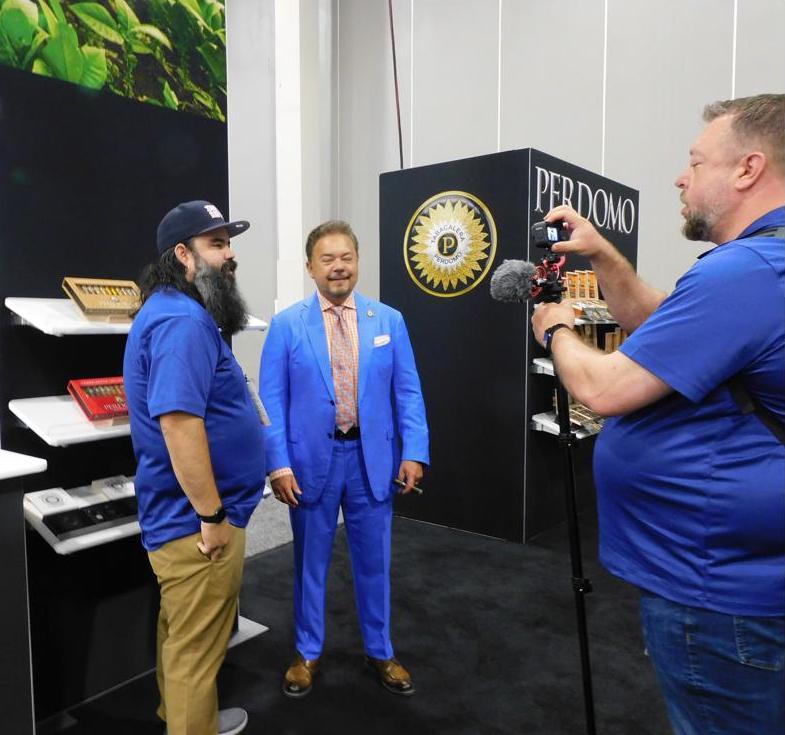 Interview with Nick Perdomo, Perdomo Cigars
Note: Due to age restrictions, you might have to click on "Watch on YouTube" to play the video
Product Reports
Photo Credits: Erron Nielsen for Cigar Coop