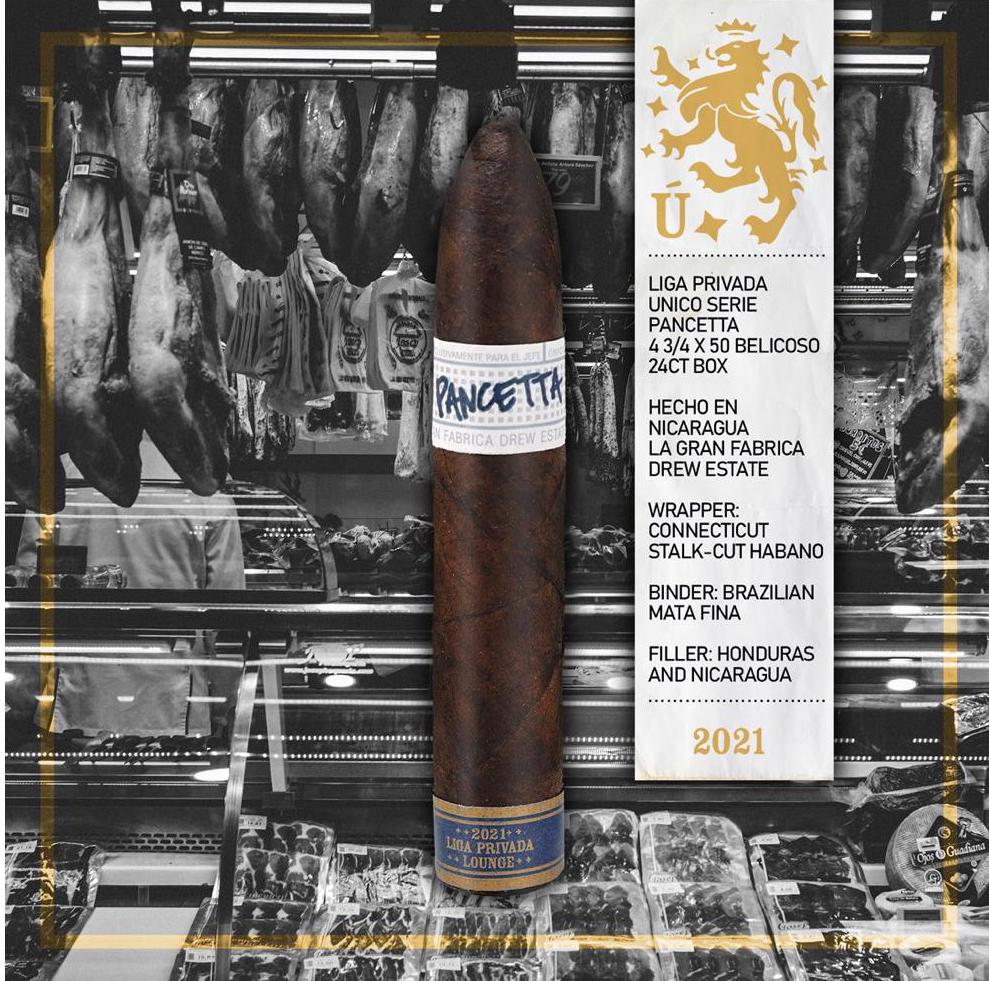 Drew Estate has announced the 2021 edition of the Liga Privada Unico Serie Pancetta will soon be available to Wooden Indian Tobacco Shop in Havertown, Pa., and Barrister Cigars in Union, N.J. on Oct. 1. This annual release has been exclusive to these two retailers since it was introduced in 2019.
The blend of the Pancetta is described as a mash-up between the Liga Privada T52 and the Liga Privada Unico Serie Feral Flying Pig. As with the previous two editions, the cigar features the Connecticut Stalk Cut and Cured Habano wrapper found on the Liga Privada T52 line. In addition, the blend features a Brazilian Mata Fina binder and a combination of Nicaraguan and Honduran filler. According to Drew Estate, these are the same binder and filler leaves found on the Liga Privada Unico Serie Feral Flying Pig. The Pancetta is available in one size – a 4 3/4 x 50 Belicoso. The cigars are presented in 24-count boxes.
One different element is that this year's edition of Liga Privada Unico Serie Pancetta features a second band on the foot that identifies it as an exclusive release for 2021.
Pancetta is a salt-cured pork belly meat. It sometimes is a meat that is thin sliced either served rolled or flat.
In a press release, Drew Estate's Founder and President, Jonathan Drew, said, "Two of the first retailers to believe in our vision for Liga Privada and support our story of Stalk-Cut and Stalk-Cured tobaccos from the Connecticut River Valley were our close friends at Wooden Indian and Barrister. Their love and passion for Liga Privada is matched only by the deep, rich, commanding and authoritative presence of this bangin' cigar."
"We are proud to bring you the Liga Privada Pancetta for the third annual release," commented David Mayer, the owner of Wooden Indian Tobacco Shop. "Thank you to Drew Estate for making this possible and the community for supporting us through this difficult year and a half. #DE4L."
Barrister Cigars' owner, David Mallow, adds, "Pancetta is the perfect marriage of the best Liga Privada has to offer. It's Feral Flying Pig blend with a T52 wrapper in a Short Belicoso size. The boldness of the Feral Flying Pig filler and binder paired with the tastiness of the Stalk-Cut and Stalk-Cured Habano wrapper really shines in the Short Belicoso format. Dave Mayer and I couldn't be happier with the blend selected for our Liga Privada Lounge Exclusive cigars."
Pricing for the Liga Privada Unico Pancetta is set at $299.00/box, or $12.46/cigar.