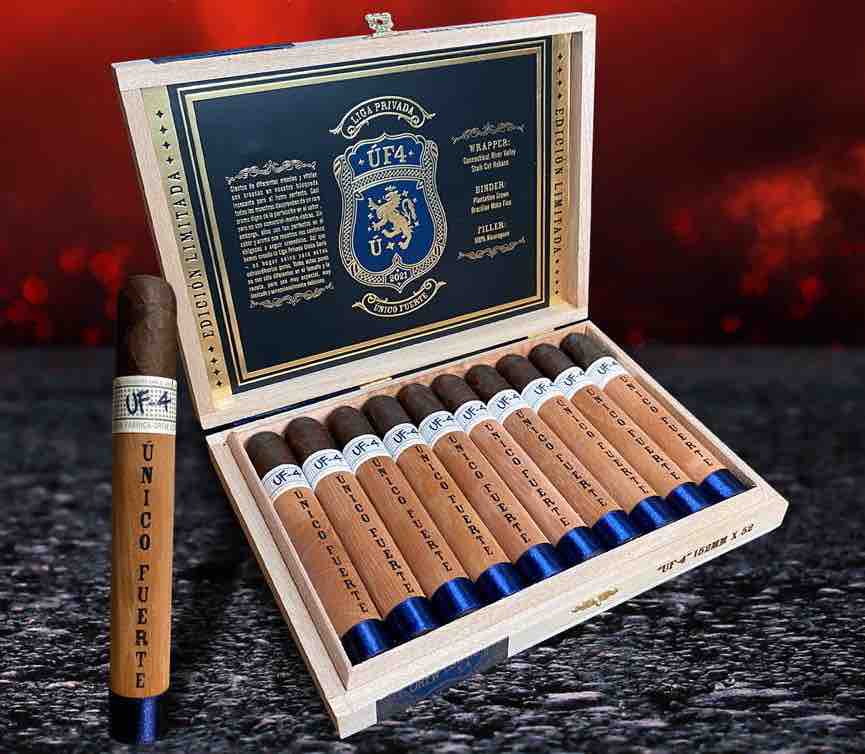 The Liga Privada Unico Serie UF4, one of the most limited Liga Privada cigars by Drew Estate, is returning in its annual release. As in previous years, the UF-4 will be released to coincide with Countryside, Illinois-based retailer Casa de Montecristo's annual Halloween party on October 29. Drew Estate co-founder Jonathan Drew will host the event virtually.
Since its inception in 2010, the Liga Privada Unico Serie UF-4 has been an exclusive offering to the Illinois-based Casa de Montecristo store. The blend consists of a Connecticut Stalk Cut Wrapper, Brazilian binder, and fillers from Honduras and Nicaragua. The cigar started out as an original test blend of the Liga Privada T52, but was not chosen for production. However, it was Drew Estate co-founder Jonathan Drew's favorite version of the blend.
In a press release announcing this year's release of the UF-4 Drew commented "I remember it like it was yesterday. I was in Chicago visiting the fellas, Mike and Sam at Casa, and asked them for their opinion on this 6 x 52 berserker while we sat at the lounge downstairs. They were like, 'Yo, JD, this is blah blah blah,' acting in all sorts of ways, all animated and shit. I like those dudes a lot and I wanted to make 'em happy. Turns out, our decision was a nightmare for the first few years … as we had to change the name various times from JD4 to MF4 and finally to UF4. One of those changes required a mega-urgent band change in Miami, so the Padron family allowed me to work with a few of their packaging people at the last minute to remove the MF4 bands and place the UF4 bands. Welcome to my life, passion and torture. The stick is now a classic, and it's definitely one of our proudest commemoratives."
While previous iterations of the UF4 have been sold in ten-count soft-packs, the 2021 limited-edition Liga Privada Unico Serie UF4 will be sold in ten-count wooden boxes. Each individual cigar will be wrapped in cedar and will also feature a ribbon around the foot.
The Halloween event will include dinner, a UF4 cigar, special deals, and swag. Those dressed in costume will be eligible for an additional exclusive deal and may also win prizes. Tickets to the event cost $50.00 and may be purchased directly through Casa de Montecristo.
Photo Credit: Drew Estate