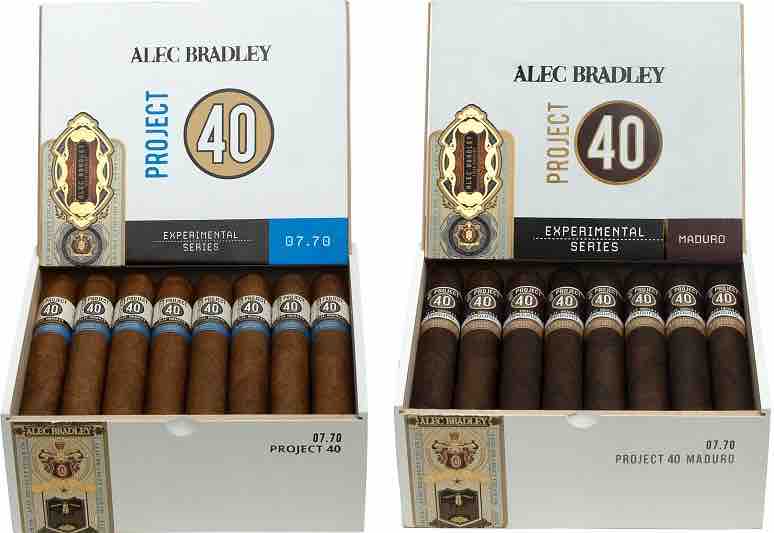 Alec Bradley Cigar Company has announced a 7 x 70 line extension to both its Project 40 and Project 40 Maduro lines. Dubbed 07.70 in each of the lines, these new sizes will officially launch at the upcoming 2022 Premium Cigar Association (PCA) Trade Show.
The Project 40 07.70 will retail for $8.85 per cigar while the Project 40 Maduro 07.70 will retail for $9.50 per cigar. The cigars are presented in 24-count boxes.
The Project 40 is the first in a series introduced by Alec Bradley known as the Alec Bradley Experimental Series. The name Project 40 comes from a theory that 40 percent of one's happiness can be influenced by intentional thoughts and actions, leading to life-changing habits. As for the experimental component, both blends featured Brazilian tobacco – not something Alec Bradley is known for.
"We listened to the needs of our brand advocates and found it was the right time to add 7″ X 70 ring-gauge cigars to both lines," said Alec Bradley Founder, Alan Rubin in a press release. "When we first launched the Project 40 Experimental Series, I promised the right cigar, with the right blend, at the right price. That statement still stands for these new iterations."
The PCA Trade Show opens on July 9, 2022, in Las Vegas, Nevada.  Shipping of the 07.70 line extensions is set for August 2022.
At a glance, here is a look at the Project 40 and Project 40 Maduro lines.
Project 40
Wrapper: Nicaraguan (Colorado)
Binder: Habano Brazil
Filler: Nicaraguan
Country of Origin: Nicaragua
Factory: J. Fuego Cigar Co. de Nicaragua
05.50: 5 x 50
06.52: 6 x 52
06.60: 6 x 60
07.50: 7 x 50
07.70: 7 x 70
Project 40 Maduro
Wrapper: San Andres Maduro
Binder: Brazilian Habano
Filler: Nicaraguan
Country of Origin: Nicaragua
Factory: J. Fuego Cigar Co. de Nicaragua
05.50: 5 x 50
06.52: 6 x 52
06.60: 6 x 60
07.70: 7 x 70
Photo Credit: Alec Bradley Cigar Company