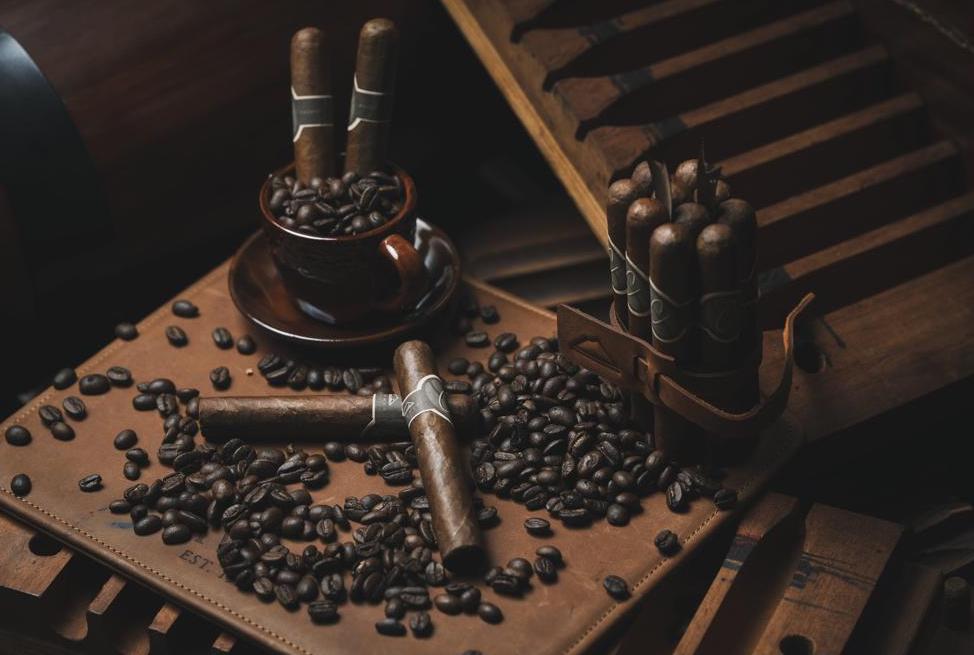 Today details of the project between Fabien Ziegler and Favilli Cigars were announced. It's a line of cigars called Coffee & Cigars. As the name indicates, premium cigars and coffee were both items selected to pair together. It will be a limited production series released to coincide with the Summer and Winter solstices. The first release is called "Come Around Friends, Enjoy" (• C •) and it will be shipping in August in Canada and the USA.
Each package will feature 227 grams (1/2 pound) of whole bean coffee and ten cigars. The duo is presented in environmentally friendly, collectible Enviro-Tubes where the cigars are nestled in loose coffee.
The pairing goes a step further. The freshly roasted coffee is sealed with well-aged tobacco leaves from the released blend. This is timed around product packaging due to freshly roasted coffee being its best after roasting. Meanwhile, the cigars rest in a specialty cedar outfit, which is packed with the pairing coffee & kept in a specific environment where the cigars are influenced by the ambiance, aromas & oils of the whole bean coffee. Each solstice release will display its collectible packaging when products are ready for shipping.
For the Come Around Friends, Enjoy! (• C •) release, the coffee is a Nicaragua Single-Origin Segovia Whole Bean coffee paired with ten Nicaraguan puro Short Coronas (4 1/2 x 44). A total production run of 650 units is being done. The Come Around Friends, Enjoy! (• C •) is priced at $155.00.
In a press release, Fabien Ziegler states, "I am very excited to be bring [sic] this product to market! We have introduced an unconventional style where the very typical Coffee & Cigars pairing is not-so-typical, & traditional products have a not-so-traditional spin. Even the standard use of a name & slogan is trumped by a conversation starter rather than a title. The coffee & cigars released for this Summer solstice are a call to action to those we have friendships with & those new friendships we look forward to. So, 'Come Around Friends, Enjoy!', and lets [sic] celebrate Nicaragua's best: Coffee & Cigars!"
Jared Michaeli, President & Co-founder of Favilli added, "This line makes so much sense, & traditional products with a not-so-traditional approach is what makes this exciting! One wouldn't expect anything less from Fabien, & we are simply honored to be his partner in creating this collective. '• C •' is the first of many in the hunt for the world's unique tobaccos & coffees. The project takes cigar making beyond perfect pairings & gets coffee partners deeply involved in establishing cigar blends, which highlights Nicaragua's agriculture more precisely as the two marry during their processes. The products & approach are authentically different & highlight the very best pairing: Coffee & Cigars."