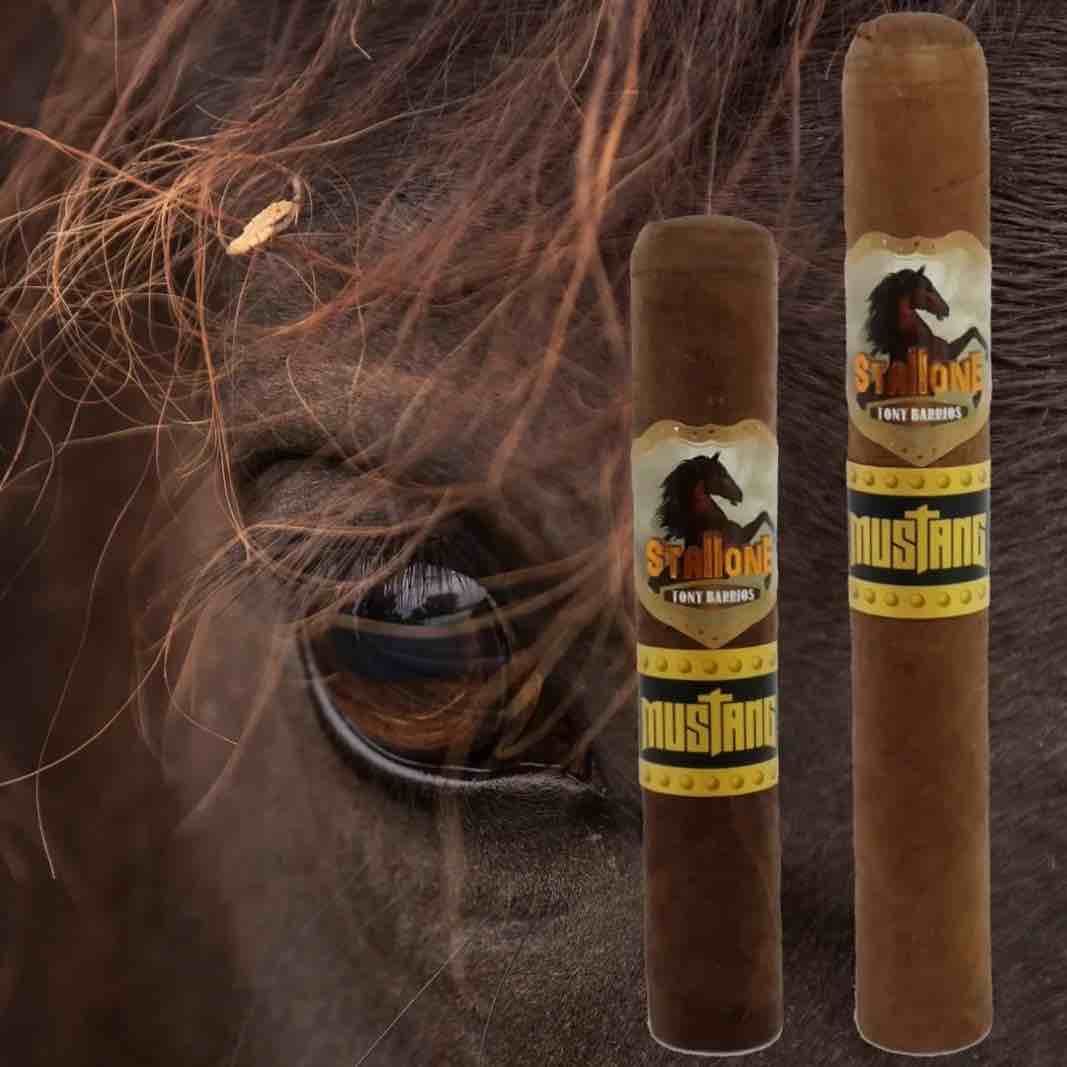 At the 2023 Premium Cigar Association (PCA) Trade Show, Stallone Cigars will introduce its latest offering – Mustang.
Stallone Cigars is a company founded by Tony Barrios, a cutting horse competitor. Horses are an underlying theme for the brand. Mustangs are free-roaming horses typically found in the Western United States. They are descended from horses brought to the Americas by the Spanish.
The Stallone Mustang comes in two options. There will be a 4 1/2 x 50 Rothschild that is highlighted by an Ecuadorian Sumatra Oscuro wrapper. In addition, there is a 5 1/2 x 50 Short Toro that has an Ecuadorian Sumatra Natural wrapper. Both cigars feature a double binder of Brazilian and Nicaraguan tobaccos. The fillers on both the Rothschild and Short Toro are all Nicaraguan long-filler from Jalapa, Estelí, and Condega.
A report in Cigar Aficionado said the cigars will come packaged in bundles of 25 with a refillable wooden box option available to brick-and-mortar retailers containing 50 of each cigar.
The Stallone Mustang is expected to ship to retailers shortly after the PCA Trade Show closes on July 11, 2023.
At a glance, here is a look at the Stallone Mustang:
Stallone Mustang Rothschild
Wrapper: Ecuadorian Sumatra Oscuro
Binder: Brazilian/Nicaraguan
Filler: Nicaraguan (Jalapa, Estelí, Condega)
Country of Origin: Nicaragua
Factory: Tabacalera Las Villas
Rothschild: 4 1/2 x 50
Stallone Mustang Short Toro
Wrapper: Ecuadorian Sumatra Natural
Binder: Brazilian/Nicaraguan
Filler: Nicaraguan (Jalapa, Estelí, Condega)
Country of Origin: Nicaragua
Factory: Tabacalera Las Villas
Rothschild: 5 1/2 x 50
Photo Credit: Stallone Cigars