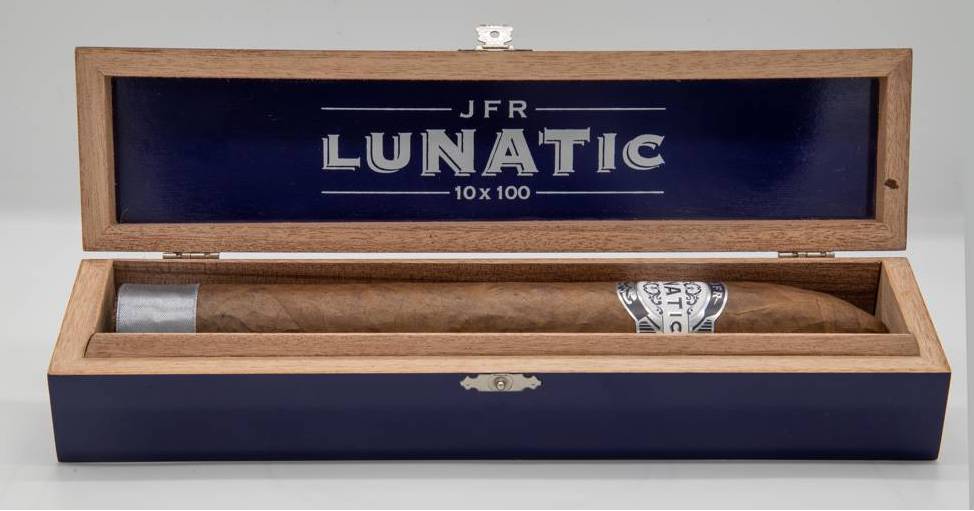 It was bound to happen sooner or later. This year, Aganorsa Leaf is preparing to release its largest cigar ever – and certainly one of the largest ever seen in the premium cigar industry, the Lunatic 10 x 100 Belicoso Maduro. That's a cigar that's 10 inches long and has a 100 ring gauge. The cigar will be introduced at the 2023 Premium Cigar Association (PCA) Trade Show.
The blend features a San Andres Maduro wrapper over Aganorsa-grown tobaccos from Jalapa and Esteli. The cigar will be packed and sold in single slide-top coffins. Pricing is set at $39.99.
"When I joined Aganorsa over five years ago I was surprised we produced so many large ring gauge cigars," states Terence Reilly, who serves as Vice President of Sales and Marketing in a press release. "Then I looked at the sales and realized there was tremendous market demand for them. That trend hasn't changed and this cigar is proof of it."
The Lunatic 10 x 100 Belicoso Maduro is planned as an annual release with 2,500 cigars slated for 2023. The 2023 PCA Trade Show opens July 7, 2023, in Las Vegas, Nevada.
Photo Credit: Aganorsa Leaf