While S.T. Dupont is celebrating its 150th anniversary, the 24 Hours of Le Mans Race is celebrating its 100th anniversary. This year S.T. Dupont is releasing a series of four commemorative collections including smoking accessories, writing instruments, leather goods, and more paying homage to the 100th anniversary of 24 Hours of Le Mans. The collections will be available for pre-order and will be showcased at the 2023 Premium Cigar Association (PCA) Trade Show at the Coles of London booth.
The Prestige Collection
This is the most luxurious collection and is offered in three options. First, a Smoker's Kit contains a Grand Dupont lighter with accents of the aerodynamic lines of a sports car. The Writer's Kit features a pen where the base of the pen resembles the 24 Hours of Le Mans Sports Trophy. All of these items feature blue lacquer and yellow gold finishes. Each kit features a replica of a race car that is seen on the track and also includes a keyring shaped like a helmet.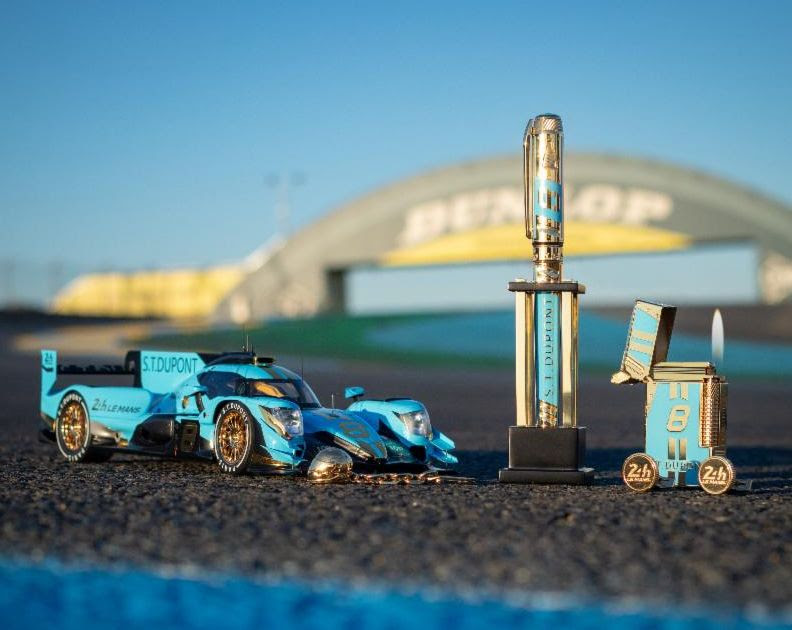 There also is a Collector's Set that combines the offerings of the Smoker's Kit and Writer's Kit plus includes a bonus set of cufflinks. The Smoker's Kit and Writer's Kit are limited to 288 units each and both have a price of $5,750.00. The Collector's Set is limited to 188 units and is priced at $10,950.00
The Premium Collection
Available in three color options: blue, orange, or red, this features a Line 2 Lighter (SRP $1,795.00), Line D fountain pen (SRP $1,895.00), and cufflinks. The figure 8 is repeated and engraved on each item, symbolizing the curves and bends of the 24 Hours of Le Mans and recreating the image of movement. Each is sold separately.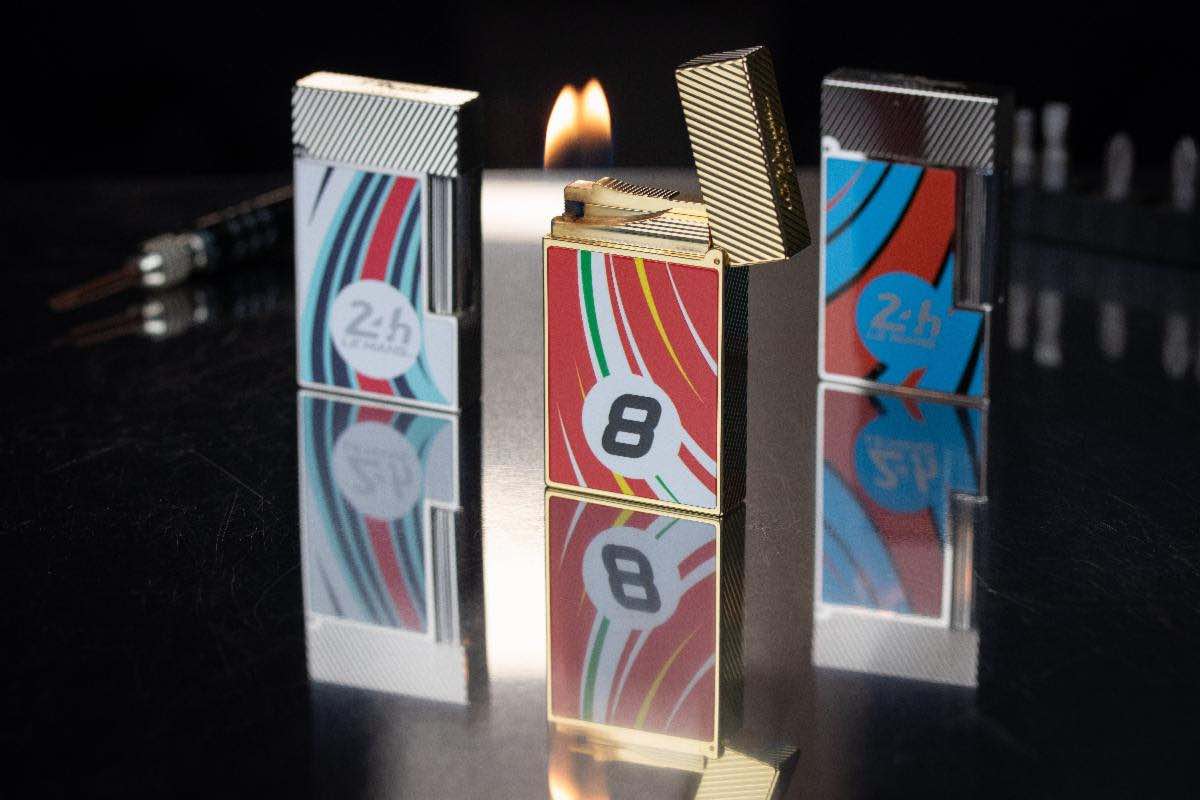 The Standard Collection
The Standard Collection items do not bear any engraved figures, rather they present the 24 Hours of Le Mans logo in its iconic simplicity. It is offered in the same three shades with the same finishes, but the designs are straight lines. This design honors the legendary Mulsanne Straight and emphasizes the vast speeds possible on the straightaways.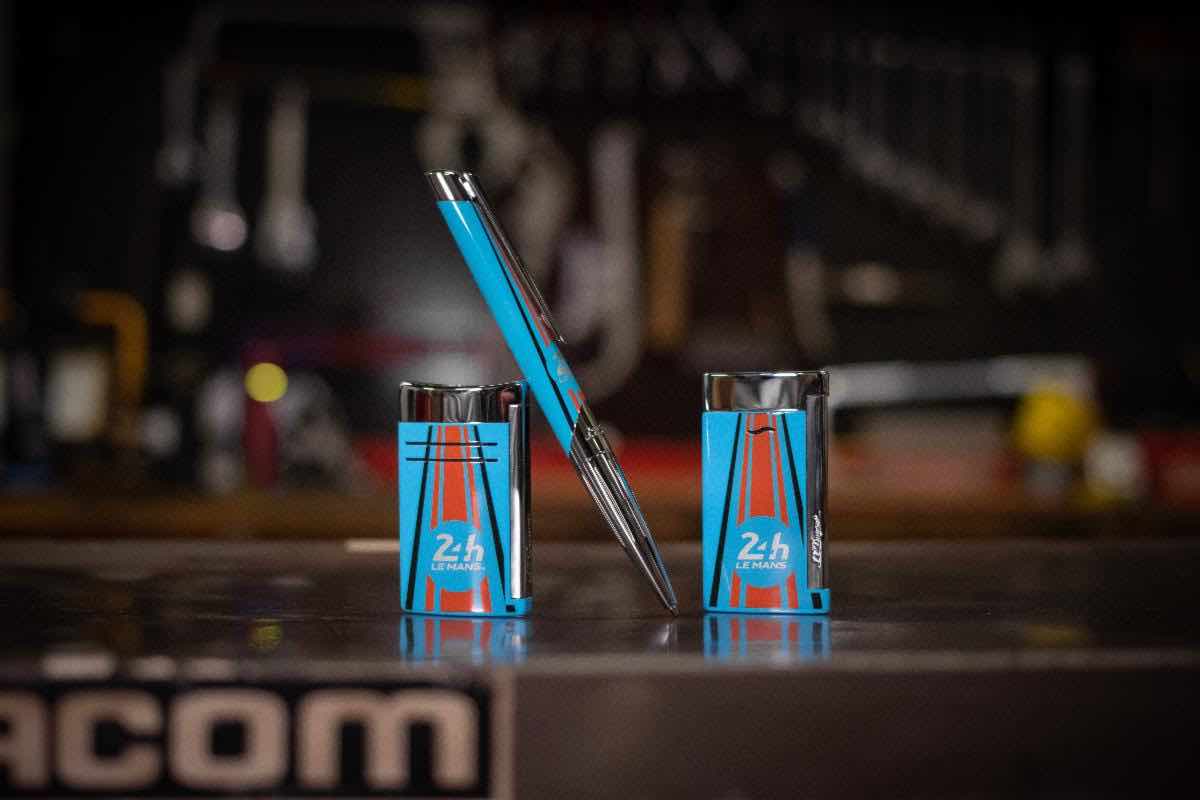 The items of this collection are sold separately and include a Slim 7 (SRP $290.00), Maxi-Jet (SRP $330.00), Cigar Cutter Stand (SRP $280.00), Ashtrays (SRP $575.00), and a Défi Millennium Ballpoint Pen (SRP $495.00).
The Leather Collection
The last creation showcases leather goods. The S.T. Dupont engineers developed several uniquely crafted leather goods that are developed in such a way as to call to mind the unique fabric of the interior of the race car. There are no smoking accessories but we include this for completeness.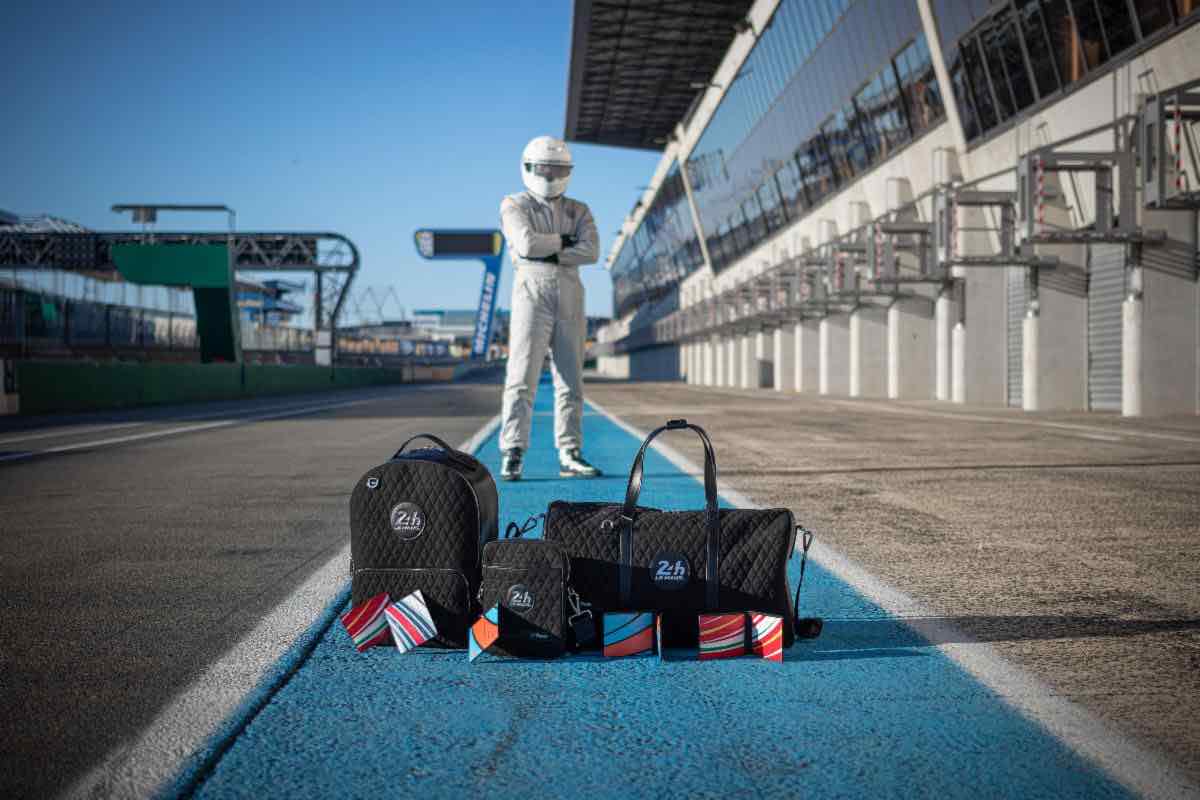 Items available include 48H travel bag, a backpack, a shoulder bag, card holder, wallets, and keyrings. Pricing ranges from SRP $245 to  SRP $395.
Photo Credits: S.T Dupont via Coles of London