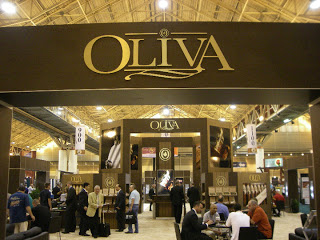 The Entrance to the Oliva Cigar Lounge
One of the most interesting things about the IPCPR Trade Show is going around in seeing the different booths. For the big companies, these booths start to take on a life of their own. They typically are transformed into a full-fledged cigar lounge. This allows the manufacturers and retailers to have a comfortable setting while they talk business. It's a very competitive thing to setup these booths and there often is a lot of creativity. In fact, there is a competition that took place.
The first stop to these many "lounges" was Oliva. Oliva struck gold by securing their location right near the entrance to IPCPR. One thing that really struck me about Oliva is how they blended the classic with the contemporary with the design of their lounge. This shouldn't be surprising because this is a great reflection of their brand. You have some classic smoking sticks such as the Oliva V – while you have some contemporary sticks such as the Cain line (introduced last year). Below you can see the Classic Wood design that was showcased in the Oliva lounge. You also can see the more contemporary design which was the "Nub" section of the Oliva lounge.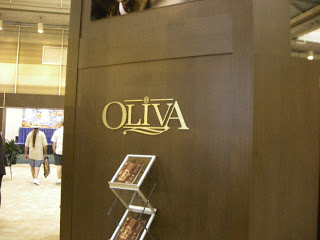 The Classic Side of the Oliva Lounge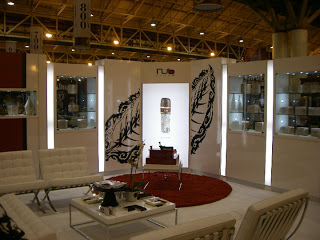 The Contemporary Side of the Oliva Lounge
The other interesting thing about IPCPR is how you meet many of the faces of the Cigar industry. I'll talk more about this in a subsequent post. It didn't take long to meet one of these faces – a true Cigar "Rock Star" – Sam Leccia. Sam is the master behind the Cain blend – which was one of the big launches at last year's IPCPR.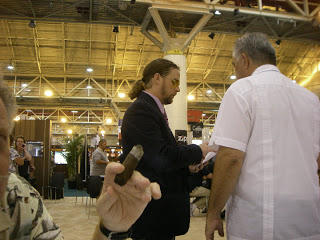 Sam Leccia getting down to business with Tom from Outland Cigars
As you are in the lounge, many of the manufacturers want you to feel comfortable. What better way to feel comfortable then to "fire one up". The Oliva folks gave me a choice of cigars. For my first cigar of the show I selected one of my favorites – The Cameroon Nub.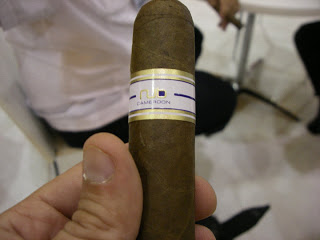 The Cameroon Nub
For Oliva, this year there was no unveiling of a new line at IPCPR. Instead they worked on putting some depth into the line they have already – and the theme of Classic and Contemporary played a key role here. This year they focused around the new Cain Nub series. Basically they took the Cain Habano and Cain Maduro blends and put them into the short chubby cigars that have become synonymous with the Nub name. Brilliant strategy. More on these sticks in the future.