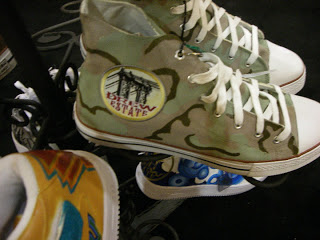 There were a lot of memories I took back from IPCPR. But perhaps there was no memory that stood out than when I saw a meeting of the minds take place at the Drew Estate Booth. Two giants in the Cigar industry were having a conversation – well maybe more like a summit. The big surprise was who these giants were: Jonathan Drew of Drew Estate and Jose O Padron of Padron Cigars. For those familiar with the cigar business, you know that these two gentlemen are nearly polar opposites. I mean, this was just a true Odd Couple.
Let's start out with Jonathan Drew. His company Drew Estates is a complete reflection of his personality. Drew loves life and loves to have fun. This was clear just from walking into his booth – which of all things was modeled after a shoe store (More on that in an upcoming "Tales" booth review). Drew got his start selling cigars at a kiosk in the World Trade Center in New York City. Drew loves to experiment and innovate – and this reflects in his products such as the Acid and Liga Privada lines. He also is a marketing genius – loves the flash and it has been very successful for him. This includes cool cigar bands, packaging, and lots of swag. But there also has been no sacrifice in quality – his cigar products are some of the best in the business.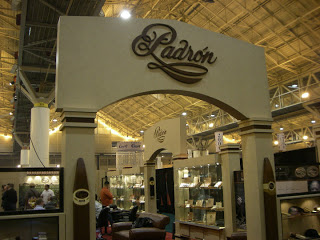 For Padron , the family business of making cigars started back in Cuba in the Pinar Del Rio region back in the 1800s. When the family tobacco farm was nationalized by Cuba in the 1960s, Jose O Padron went to Miami and was given the famous "little hammer" that allowed him to obtain a carpentry job. That job would enable him to start Padron cigars. And Padron's company is very much a reflection of the tradition of this long-time family business. There isn't flashy packaging or marketing. In fact the cigar bands and packaging are very simple. There isn't a huge sales force. You won't see infused cigars as part of the Padron line – it's classic cigars made in the Cuban tradition. The ultimate goal is quality. Today, no doubt – Jose O Padron is one of the elder statesmen of the cigar industry.
And when I saw the meeting of the minds, I immediately was wishing I was a fly on the wall. What could these guys have been talking about? Was Jonathan Drew proposing some sort of a cigar teaming effort similar to what he did with Dion Giolito? Was Mr. Padron offering advice to Jonathan Drew? (or vice versa?) I mean this was really cool stuff. And as much as these two were an odd couple, they ultimately have more in common than I originally gave them credit for – they both have humble beginnings and they both make great cigars.
Unfortunately, I was late for the Kodak moment, but Jacob Roush managed to get a picture and was so kind to share it with me. This is his picture, so all kind words should be sent to him.
CLICK HERE TO SEE THE PHOTO BY JACOB ROUSH OF THESE GENIUSES!