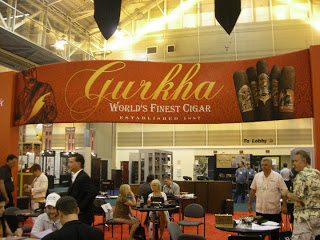 The second Cigar Lounge I visited at the IPCPR show was the Gurkha Cigars lounge.
Gurkha Cigars are known for their unique and extravagant packaging.   Upon arriving there, I expected a lounge that would reflect some of the unique packaging on the cigars.   What I found was a simple lounge as illustrated by the picture.  Soon, after I sat in the lounge, I understood the reasons why.
Gurkha's packaging and unique blends have led to higher price points in their cigars.  While they make some really good stuff, it is not a reality in today's economy to expect these cigars to fly off the shelves.   Gurkha realized they needed to capitalize on the "value cigar market".   "Value Cigars" are those premium hand-made cigars that are in the $5.00 to $7.00 range.   Manuel Quesada a few years ago revolutionized the cigar business by debuting the "Casa Magna" which proved indeed a great cigar can be in that price range.  Since then many other manufacturers have been following suit to try to position their own value sticks in that price range.   Now it was Gurkha's turn – they introduced the "Viper" and the "Ninja".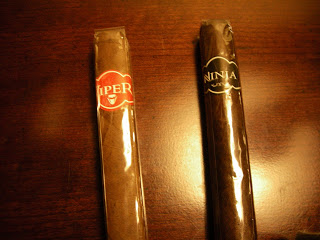 The Viper is a beautiful box press stick while the Ninja is a beautiful Maduro.  I smoked the Viper (review to follow) and it is of excellent quality.   The problem is that Gurkha has made the packaging too simple and have gone to the other extreme.   The bands make these cigars appear to be bundle sticks.   It is clear from looking and smoking these sticks that Gurkha continues to maintain the high standards we have gotten used to.  Hopefully folks can get past the band and see these sticks for what they are.  This is going to be a "challenge" Gurkha needs to address.   Indeed, this might explain the simple Cigar lounge that Gurkha had set up at IPCPR in 2010.
The folks at Gurkha were simply terrific.   I enjoyed my time with them.   One thing I managed to get from them was a "Gurkha Challenge Coin".    Gurkha head-honcho, Kaizad "Kaiser" Hansotia intended this to be a take off of the military challenge coin.  The idea is that a cigar smoker should walk around with this coin in his pocket.   He can take it out to challenge someone.  If that someone does not have his coin, he must fork over a cigar to the person who challenged him.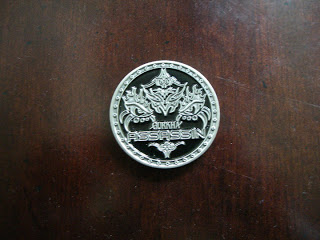 The Gurkha Challenge Coin
I turned the tables on none other than Hansotia himself at Emeril's Restaurant on Thursday.   Hansotia was dining at another table and had just bought our table a bottle of wine and had come over. When I saw Hansotia , I immediately pulled out my coin.   Hansotia looked stunned, but he had no coin to answer my challenge.    We had a laugh and a hug, but unfortunately no stick.   I was hoping he was walking around with one of these $100.00 Gurkha Triads (see below).  Man, he didn't even have a Swisher Sweet.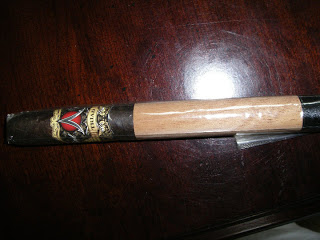 The Gurkha Triad Maduro – SRP $100.00
My buddy Stace Berkland, tried the same thing Friday at the show with Hansotia.   Same result – he got no stick either.   However, all humor aside, I was pleased with what I saw at the Gurkha booth and how we were treated.   I'll post more on these new sticks soon.