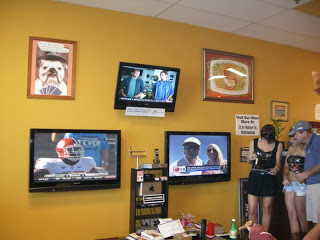 Brookelynn Cigars' Leland Store TV Viewing Lounge
This past weekend, I took the ride down the Andrew Jackson Highway from Charlotte to the Wilmington NC Area to attend the "CAO Rock and Rolled" event held at Brookelynn Cigars. The trip had two purposes: 1) To attend an event to what I consider a "go to" brand in my collection – CAO; 2) Check out Brookelynn Cigars as I hadheard good things about this establishment. On both accounts, I considered this a highly successful trip.
Brookelynn Cigars is named after the owner's daughter – Brooke Lynn. It was established back in 2001. Their original store opened in the actual city of Wilmington. About two years ago, they opened a second store just outside of Wilmington in Leland. In fact, the CAO event coincided with the two year anniversary of the Leland store. For this particular review, I will be focusing primarily on the Leland store since this is the one I visited (I did not visit the Wilmington store).
Brookleynn Cigars Leland consists of a nice sized humidor and a free smoking lounge. The smoking lounge contains three flat screen televisions. From what I've heard, they do offer the NFL and NHL packages for sports. College Sports is the rage on Saturdays – and this happened to be the day I came in. There is about seating for approximately 6 to 8 people on leather couches that surround the television viewing area. Toward the front of the store, three is "bar table and stool" seating. The lounge offers beverages for sale in a refrigerated unit. The store also has a nice selection of tobacco enthusiast merchandise. There are also pipe and pipe tobaccos for sale. The lounge was supported by hostesses who work for the store, so I assume
There also is a club membership option for a locker and for discounts, but the smoking lounge in the front is always free.
The humidor is a good sized one. I would say it is about 1000 square feet. The Brookelynn Cigars web-site lists the brands they carry. From my observations, the major brands that they seem to partner include: Altadis, General, CAO, La Flor, Drew Estates, Rocky Patel, Perdomo, Ashton, Gurkha, and Padron. The prices on the cigars are among the most competitive I have seen in the State of North Carolina. Cigars are also available for mail-order purchase.
The Leland store itself is located in a large retail shopping area called "Waterford", so there is no shortage of parking. It is easily accessible from US 74 and US 17.
A little on the event. Jon Huber, CAO Lifestyle Marketing manager came in for the event. If you are familiar with Huber, you know he is a marketing genius, so this event clearly reflected that. Box purchases were 20% off and included a special five pack, a free hat or shirt with a purchase. Two boxes included the same deal, plus an ashtray. There were raffles for prizes including an iPad and a beautiful Lx2 humidor.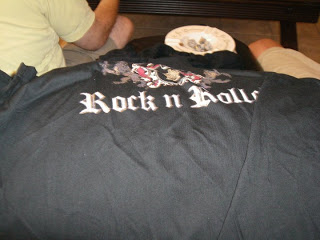 The Rock and Rolled T-Shirt
The event itself focused on CAO's three new releases for 2010. These are the sticks I talked about when I visited the CAO lounge at IPCPR. These sticks included the new 4 x 60, Brazilia Corcovado, the new 6 x 60 Lx2 Gordo, La Traviata Maduro- all exciting releases to the CAO line. Reviews are still to come on Cigar Coop as I have tried all of these sticks.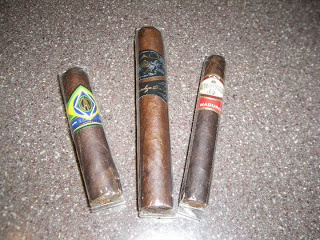 CAO Brazilia Corcovado (L), CAO Lx2 Gordo (C), CAO La Traviata Maduro (R)
Not only was this a great event, but it was a place to really be made to feel welcome. Owner Steve Gimello really opened up the red carpet and appreciated someone coming from out of town for a visit. It's a place I will definite be frequenting when I return to Wilmington.
The contact information is listed below. Note the main Wilmington store is slated to move to a free standing location in the future, so this could change slightly. Check the web-site for further details.
866 – 744 – 8433
910 – 686 – 2446 7134 Market Street #9
Wilmington NC 28411
info@brookelynncigars.com
866 – 744 – 8433
910 – 371 – 0025 2013 Old Regent Way
Leland, NC 28451