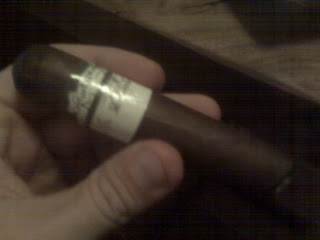 These aren't the best pictures, but this does document one of the best long ashes I ever got on a cigar. The cigar that provided this was Revolution Cigars' Paradigm 262. I had intended to enjoy this stick with the intent of doing a review, but as the ash began to get longer, the ash became the story.
Revolution Cigars is a company based out of Lynchburg Virginia. Their first stick they came out with was the Paradigm 262. They have since recently released the new Ideology. Alec Bradley is handling the blending of the cigars.
Here is a closer look at the blend and the sizes that this stick was available in:
Wrapper: Brazilian
Filler: Honduran
Filler: Nicaraguan (Seco/Ligero), Colombian (Cuban Seed)
Box Pressed Toro: 6 x 54
4Sixty: 4 x 60
Torpedo: 6.25 x 54
Robusto: 4 x 52
As mentioned, I planned on reviewing this stick, but as the ash developed, it really became the story. For this smoke, I had the Robusto (which is a little small for a Robusto, but a perfect 30 minute cigar). The web-site discusses notes of citrus, coffee, dark chocolate, and a little spice and I definitely picked up this.
But look at how the ash developed below. Again, I apologize for the quality of the pictures, but did not realize history would be made. This cigar went right down to my finger which nearly burned off. All pictures are in chronological order. The second to last picture even has me putting the stick on its side with the ash before I picked it up for the last picture. I nearly had the full four inches of ash. Another intersting note is that despite the long ash, the cigar did not get harsh until the last 30%.
Side note: I moved the band from the foot to the other side. This is just a force of habit I have. As you can also see, eventually I was even able to get the band off.
Take a look at this "history" that was made at Outland Cigars in Ballantyne.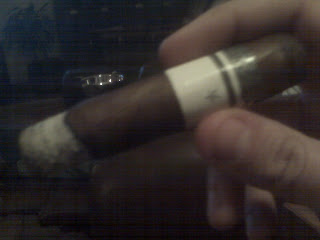 The Paradigm 262 Robusto