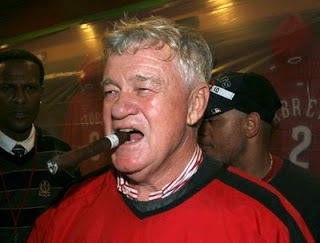 Bob Castellini enjoying a Liga Privada No9
Now normally, as a fan of a juggernaut known as Phillies Nation, I would not be posting a celebration from our opponent the Cincinnati Reds. However, I must give props to our opponent.
After wrapping up the NL Central Title – the Reds first in 15 years, the team decided to enjoy themselves by lighting up a fine cigar. Here we have owner Bob Castellini enjoying a Liga Privada No 9 – one of the best cigars out there.
Yet the Pleasure Police could not be satisfied. Five LOSERS from Cincinnati called the health department complaining the Reds were in violation of the Ohio Smoking Ban.
Folks, here is your tax money hard at work. Now the health department is going to investigate the Reds locker room. This is nonsense – and it must stop. Remember these clowns on election day and fight for your rights!
The Reds will have my respect whether or not the Phillies beat them or not. I'll support them in any battle with the Pleasure Police. Should the Phillies go down to them, I hope the Reds light up another cigar!