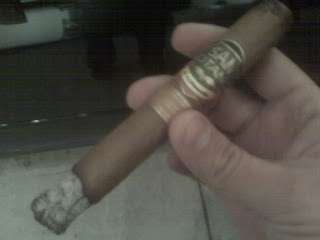 Who is A.J. Fernandez? He might just be the best cigar blender that nobody has ever heard of. From what I've heard, he has just cracked the age of 30, yet he has been making a big impact on blending for the past few years. He has been involved with blending for Diesel, Man o War, and Esteban Carrera's – and if you are familiar with those brands, you know the quality. Now A.J. has ventured out and formed his own brand. He has chosen to bring back an old line introduced by his grandfather in Cuba – called the San Lotano. From my first sample that I received at the 2010 IPCPR (where it was launched), this cigar was nothing short of a home run. I tried his Connecticut Shade Wrapper blend and this might be one of the best Connecticut Shade wrappers I have ever had!
The San Lotano is available in three blends, each with a new wrapper. I'm going to post all three here, but right now I'm going to focus on the Connecticut blend. I will be following up with the Habano and Maduro blends.
Connecticut Blend:
Wrapper: Ecuadorian grown Connecticut
Binder: Honduran
Filler: Dominican, Honduran, and Nicaraguan
Habano Blend:
Wrapper: Brazilian grown Habano
Binder: Honduran
Filler: Dominican, Honduran, and Nicaraguan


Maduro Blend:
Wrapper: Mexican grown Maduro
Binder: Honduran
Filler: Dominican, Honduran, and Nicaraguan
The sizes are listed below. Note the Maduro blend is a classic Cuban Box Press:
• Churchill: 7 x 52
• Robusto: 5 x 52
• Toro: 6 x 52
• Torpedo: 6 1/2 x 52
For the purposes of this review, I put a straight cut into the Connecticut Toro, toasted the foot and away I went. With Connecticut shade cigars, I often don't know what to expect when I'm venturing into a new stick. As soon as I put the initial draws into this stick – it was like "bam!" (to quote Emeril). The spice was unbelievable. It was a great mix of white pepper and cedar spices with some vanilla cream in the background. Despite the nice surprise of the spice, I expected this to become a mild, creamy cigar. To some extent in the first half of the cigar, the spice did subside about 1/3 of the way down and the sweet vanilla cream notes would take over. However, in the first half of that cigar – the pepper never fizzled out and the spice remained. In the second half, I saw a re-emergence of the pepper notes. This remained all the way to the end. While the cigar was warm at the end, it was not harsh.
The draw was flawless on this cigar – as perfect as I can score a draw. The burn was excellent (although as I mentioned it did get a little warm at the end). For a Connecticut Shade, I'm put this as a Medium strength and a Medium to Full bodied stick. This is not the Connecticut Shade stick you are going to throw to your novice cigar enthusiast. At the same time, I would not hesitate to give this to the seasoned full-bodied hard-core cigar enthusiast to try.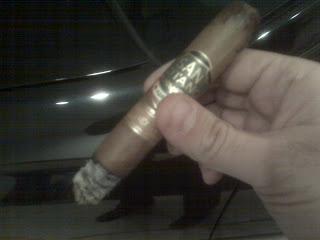 Look how great this burn is
Finally, great news for retailers in that the commitment for now is for the San Lotano line to be carried in retail shops only. I came very close to giving this cigar a "Historic" on the Cigar Coop Assessment Scale. But I don't give a lot of Memorable scores either. Try this stick.
Assessment: Memorable