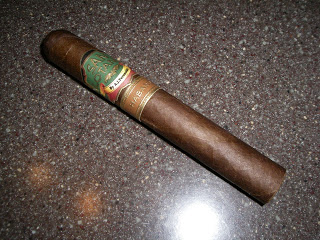 Last month, I was blown away by A.J. Fernandez's new San Lotano Connecticut stick. To quote what I said, "might be one of the best Connecticut Shade wrappers I have ever had!" Therefore I was very excited to try another San Lotano stick that was released this year. I decided to give the San Lotano Habano a look. From my initial tasting, I felt the Habano was a slight notch below the Connecticut – yet, it still proves that San Lotano is a brand to watch in 2011.
I opted to do a "Pre Review" on this stick instead of the full blown review. My reason is I want to give this stick a second smoke before coming up with a final assessment.
First a little background on AJ Fernandez and the San Lotano line (This may be a slight repeat if you read my San Lotano Connecticut review). A.J. Fernandez might just be the best cigar blender that nobody has ever heard of. From what I've heard, he has just cracked the age of 30, yet he has been making a big impact on blending for the past few years. He has been involved with blending for Diesel, Man o War, and Esteban Carrera's – and if you are familiar with those brands, you know the quality. Now A.J. has ventured out and formed his own brand. He has chosen to bring back an old line introduced by his grandfather in Cuba – called the San Lotano.
Let's take a closer look at the San Lotano Habano:
Wrapper: Brazilian grown Habano
Binder: Honduran
Filler: Dominican, Honduran, and Nicaraguan
The sizes are listed below.
• Churchill: 7 x 52
• Robusto: 5 x 52
• Toro: 6 x 52
• Torpedo: 6 1/2 x 52
One thing that really impressed me when I had the Connecticut blend was the spices and flavor that stick brought out – especially when from the looks of that cigar it appeared this would be a mild smoke. The San Lotano Habano, like it's Connecticut sibling is going to be all about the pepper notes mixed with some incredible cream-like flavors. The Habano is going to be a combination of these pepper notes mixed with wood and earth tones. As I smoked the Habano, there were times were the pepper notes were more dominant, and there were times the wood and earth notes were more dominant.
The reason why I preferred the Connecticut edition is I just felt the mix of pepper and cream was more enjoyable than the mix of pepper and wood. This is not to say the Habano is a bad stick, but I was hoping for more than the wood/earth tones to compliment the pepper notes. The Habano is going to have a razor-sharp burn – like its Connecticut sibling did. It also is going to have a good draw. The finish is going to be soft, but cool. From a strength perspective, this cigar will be right in the middle of the Medium to Full range. From the body perspective, this is more on the full side.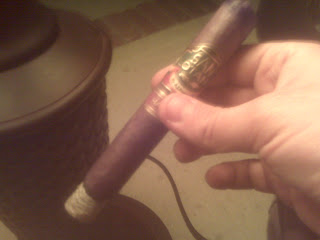 The Razor Sharp Burn of the San Lotano Habano
I want to give this stick another smoke. I did smoke this cigar outdoors on a cool, dry night with no wind. I've heard others say there was more flavors than the "wood, earth" tones I detected, so it's possible my pallet was off. However, I think its safe to say, this is a spicy stick that isn't going to have drastic flavor profile changes (other than which notes were more dominant). Still this is definitely I stick I would have again.