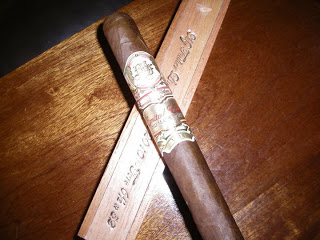 Cigar Enthusiasts are very familiar with Don Pepin Garcia. Those who really follow the business know he is considered the master of Nicaraguan tobacco. Last year, Pepin launched his "My Father" cigar line and it was greeted with commercial and critical acclaim. The "My Father" cigar finished #3 on the Cigar Aficionado Cigar of the Year list, and posted #12 on my personal Top 20 list. This year, Pepin has added another stick to his line – this one is an individually boxed stick called the "My Father Limited Edition 2010". This stick once again continues the quality that was launched last year. However, in a year of ultra-competition for the top cigars of the year, I'm not sure this justifies the price point.
Two key points: 1) There have only been 24000 sticks made, each put in an individual coffin box. The coffin boxes are packaged into full boxes of 12, so there are only 2000 boxes made; 2) Each of the sticks were rolled personally by Don Pepin Garcia and his son Jaime – so there is true Garcia family pride in each stick
Here is an overview of the blend:
Wrapper: Hybrid Ecuadorian Habano Rosado/Criollo
Binder: Nicaraguan
Filler: Nicaraguan
The stick is only made in one size – this is a 6.5 x 52 – a long Toro.
Upon lighting the cigar, there was some great complexity right off the bat. It had a good combination of cinnamon, salt, and trademark Pepin pepper notes. A little into the stick, the pepper notes diminish (but don't disappear) within the first few minutes. I then noticed the emergence of black cherry and wood. Around the 1/3 point of the stick is where some toast notes joining the flavor profile. This kind of reminded me of a classic Cuban feel with some complexity – namely toast with hints of cinnamon, black cherry, wood, and the trademark Pepin pepper notes. As the stick moved toward the finish, it seemed like the wood note would be the last flavor standing. The wood was not as "oak" like as I would have liked as oak flavor notes tend to be more robust.
While I did have this stick stored in ideal conditions, the burn was uneven at times and required more touch-ups than I would expect for a stick priced close to $20.00. The ash was not as firm as I would have liked, and tended to flake at times. To be fair, many people have said this has a great ash, so I'll toss the human element into this. A cigar is a hand-rolled product and the resulting ash/burn could be a product of the human element as humans aren't perfect. There were no issues with the draw.
Overall, this is a good stick. But to be honest, I still preferred the core My Father and My Father Bijou over this stick – primarily did not like the way this stick finished from a flavor standpoint. I also did prefer the Liberty 2010 (packaged similar in a coffin box) to this stick. Still a Cigar Enthusiast should still try this stick and make the final verdict. yourself.
Burn: Fair
Draw: Excellent
Strength: Medium
Body: Medium to Full (closer to the medium though)
Assessment: Nice to Have