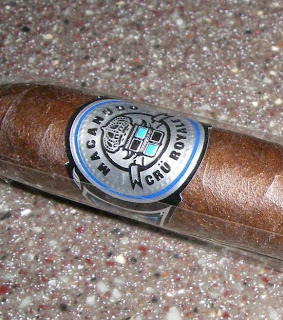 #30 – Macanudo Cru Royale
It's that time of the year. 30 Cigars in 31 Days – the Top 30 Cigars for 2010. I've posted some criteria, I've done for this countdown which you can check out.
This could have been the most competitive year for new cigars in some time. There were a LOT of great sticks and many great sticks did miss the cut. Stick #30 is a special stick as it did make the cut. In previous years, this stick could have easily made the Top 15.
So onward with #30 for 2010 – the Macanudo Cru Royale. This cigar represents the new direction taken by the Macanudo brand in the past 2 years – namely, moving away from their bread and butter milder cigars. This is Macanudo's foray into the medium-bodied cigar market and they do a great job on this stick. From everything starting with the blue and silver band to its beautiful Ecuadorian Habano wrapper, this is a great smoke at a great price. The flavors are also a distinguishable as you will pick up coffee, oak, and even some ginger notes.
A full review is available here for more details on my experience with this stick.


Recommended Vitola: Robusto (5 x 50)