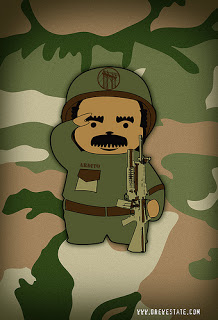 Photo from Drew Estate Blog
I was thinking about what to post for the 100th post of Cigar Coop. Then it became very easy when Stace Berkland told me what Drew Estate is doing for their December 5th Cigar Safari. They are giving 14 Cigar Safari trips away to United States Military Veterans or those currently serving in the military.
Cigar Safari is the ultimate four day vacation for the Cigar fan. It takes you to the famed Esteli region of Nicaragua. It provides Cigar Enthusiasts an opportunity to tour the Drew Estate facilities.
This was not only perfect timing for my 100th post, but also perfect timing for Veterans. When you see a Veteran tomorrow, be sure to offer him a cigar and thank the Veteran for the service provided o this country.
Click here for the Drew Estate announcement.