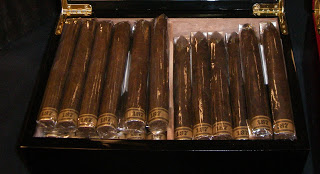 #21 Esteban Carreras 187
Sticks 21 to 30 are now in the annals of history in this year's Top 30 Cigars of the Year.
Coming in at #21 is the Esteban Carreras 187. This is the sibling cigar to the Esteban Carreras 5150 that came in at #27.
This stick has more strength and body than the 5150 as I would place the 187 in Medium to Full in both categories. This is an all-Nicaraguan stick featuring a Nicaraguan Maduro wrapper. Like the 5150, the band is put on the foot of the cigar.
The dominant flavor notes throughout this stick are going to be cocoa/chocolate and cedar spice – varying at different points of dominance throughout the smoke. There are also notes of cedar and earth in this smoke.
Like the 5150, the 187 will come in at the 5.00-$7.00 range. Consistent with Esteban Carreras, there is no sacrifice of quality.
A full review is available here for more details on my experience with this cigar.
Recommended Vitola: Toro (6 x 50)