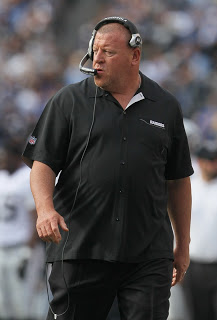 This is a little bit of a lighter note.
When it comes to NFL head coaches, I admit, I am a fan of the days of a suit and tie. I always liked to see Vince Lombardi in his tie. When Mike Ditka wore a tie under his sweater, I thought it was great. When Dan Reeves coached the Giants, he was one of the last coaches to follow the tradition of Tom Landry and wear a tie. And yes, when Mike Nolan and Jack Del Rio recently sported ties, I was a fan.
I've never been a fan of the casual look the NFL coaches now sport – until now. Tom Cable is the head coach of the Oakland Raiders. If you look at the picture to the left, you will see Cable sporting a different type of casual look. Yes folks that is a classic Cuban-styled Guayabera Shirt. How awesome is that! I believe Cable is the first NFL coach to make this a regular fashion statement on the sidelines.
I would personally like to thank Tom Cable for sporting this look on the sidelines. I am publically offering the Cable Guy a cigar to smoke with me.