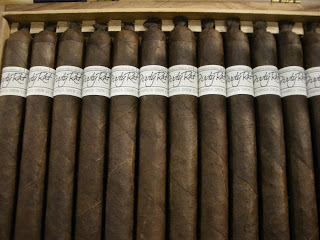 #22 Liga Privada Dirty Rat by Drew Estate
It's time for the ninth installment of "30 Cigars in 31 Days" – the list of the Top 30 Cigars for 2010.
Coming in at #22 on the list is the Liga Privada Dirty Rat by Drew Estates. The Dirty Rat is the first installment of the "Ünico Serie" banner under the Liga Privada line. This involves mapping a single vitola to a single blend – in this case, the Dirty Rat blend was mapped to a Corona size cigar.
The Dirty Rat is a follow-up to my 2009 Cigar of the Year, the Liga Privada T52. It utilizes the same trademark "Stalk Cut American (Connecticut) Habano" wrapper that the T52 used. It has a Brazilian Mata Fina binder and five different filler tobaccos from Honduras and Nicaragua.
The flavor profile is cayenne pepper to start, cedar spice, baker's chocolate, licorice, and nuts in this full strength, full bodied-cigar. One thing about this cigar, for a small corona, this is going to produce a lot of smoke.
It's a tough act to follow-up the Cigar of the Year. The Dirty Rat should not be considered a disappointment by any means. It is important to note that as I've mentioned many times in this countdown, this is a highly competitive year for cigars. In other years, this stick probably would have slotted higher. It is also important to note that the corona vitola is not my favorite size/shape for a cigar. However this still is a very good stick and if I were going for a vitola of this size, I'd pick it up.
A full review is available here for more details on my experience with this cigar.
Recommended Vitola: Corona (5 x 44) – ONLY VITOLA Available.